I was so happy to arrive in Buenos Aires because I could finally find good red wine for reasonable prices (not possible in Central America).  Of course, my definition of cheap wine has changed since I became jobless and started backpacking in Latin America.  In the US, $7-12 was the range for what I would consider a cheap bottle.  In Argentina, you can get much higher quality wine for that price range.  So now that I am on a budget and in Argentina, cheap now means US$5.00 or less.
Los Vinos de Tu Chino
When I was invited to a wine tasting called Los Vinos de Tu Chino, I was very excited.  In Buenos Aires, the place to buy cheap wine is at the chinos.  That is what they call the supermarkets run by the Chinese, and I think there is one on every single block in this city.  The chinos buy their wine together in bulk, which is how they offer discount prices.  I have also heard that there is an arrangement between governments, and the Chinese owners don't have to pay taxes for 10 years, another reason they are cheaper.  There was another story about a Chinese mafia.  But I digress…
The whole premise of this event was to learn about cheap wine.  I have tried several cheap wines since I arrived in Buenos Aires.  Some have been highly disappointing and some have been surprisingly delicious.
Now I was ready for an expert to guide me to the best cheap wines.
Off To A Bad Start
I was starving when I arrived.  The first thing I noticed was a beautiful display of food on the table.  I purposely did not eat because I was told there would be food.  However, in typical Argentine fashion, we did not start at 8pm but rather 45 minutes late.  And then when we did start, we were told we couldn't eat the food yet because there were specific items we would taste with each wine.
A hungry Stephanie is not a happy Stephanie.
The Food
That beautiful display of food was quite delicious.  There were a variety of cheeses and meats, crackers, veggies, dried fruit, nuts, and spicy toasted bread (my favorite).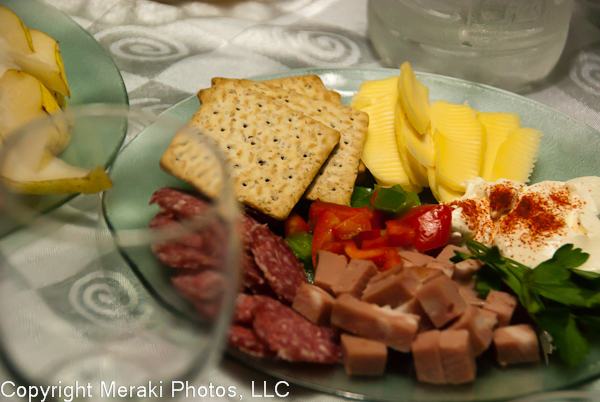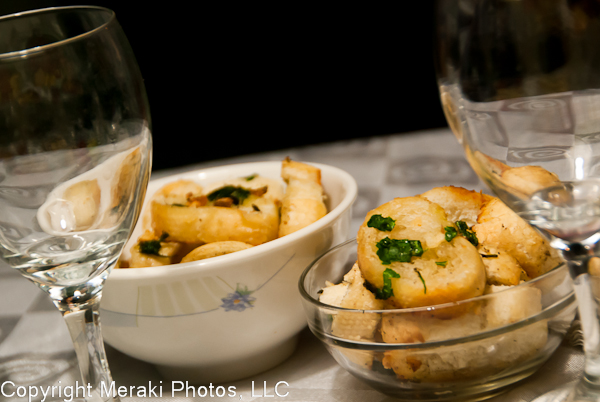 The Wines
Out of the 4 wines we tasted, 2 were absolutely disgusting. If you gave me a free bottle, I would pour it down the drain.  I would not give it away because I would not want anyone else to suffer.
The best wine of the tasting was….
Gato Negro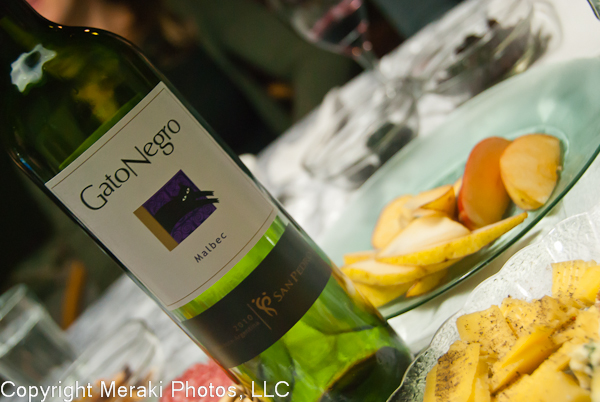 Yep, that's right.  The cheap wine I've been drinking in the US for years is the cheapest decent wine I have had in Buenos Aires.  The bonus here is that it only costs 13.50 pesos or US$3.25.
To help you avoid the same disappointment I had, the two disgusting wines were Colon Torrontes 2010 (13.50 pesos or US$3.25) and San Telmo Cabernet 2007 (probably the same price).  Seriously, don't drink these.
Reality Check
What was I expecting at a cheap wine tasting?  I was expecting every wine to be delicious.  However, when you are experimenting with cheap wines, you're going to get some bad ones.  I should have known this from my own experience trying various cheap wines in Buenos Aires.
As I have gotten older, I am no longer drinking wine to get a buzz. I drink it because I enjoy the taste. So I am not looking for the cheapest wine possible.  I am looking for a good cheap wine.  And that means US$3.00 wines in Argentina are NOT for me.
If you are willing to spend US$4.50-6.00 (and I am), you can get a pretty nice wine in Argentina.  And if you are willing to splurge and spend US$10.00-15.00, you will be amazed by the quality.
I would rather not drink wine at all than drink wine that I don't enjoy. I have done A LOT of experimenting with different wines in Buenos Aires, and I will share my favorite good cheap wines soon.
What I Learned
Despite going into this thing with the wrong expectations, I did actually learn a few interesting things about drinking cheap wine that are worth passing along.
The indentation at the bottom of the bottle is an indicator of quality. The more concave, the more the sediment can be filtered.  Seriously, take a look at a cheap bottle and a medium or high-priced bottle.  You will see a big difference.  The US$3.00 wines have no curve at all.
Apple slices are good for cleaning your palate between wines.
With cheap wines, exposure to light impacts the quality rapidly. If buying cheap wines, grab the bottle in the back that has had less exposure to the lights in the store.
Cheap wines are more alcoholic.  You will notice the "legs" are faster.
The ladies at Vinoteca Latinoamericana are really great and knowledge about how to taste wines.  This is an enjoyable (and cheap) evening in Buenos Aires… if you don't show up hungry and don't expect that every wine will be spectacular.
If anyone has suggestions on good cheap wine, please share.