On the way to Colonia for my first border run, my friend Jeff and I started talking about our passport stamps.  He mentioned the need to get some more pages sewn into his passport.  Then I realized that with the number of countries I have left in my Latin America adventure, I would run out of pages soon too.
How awesome is that?!!
The excitement outweighed the fact that I would have to spend $82 (note this service was free a year ago) and half of my day at the US Embassy to get more pages.
Preparation
We wanted to make sure we knew the hours this specific department would be open, as well as the methods of payment accepted.  Since it is so expensive to take money out of the ATMs in Buenos Aires, we both wanted to pay with a credit card.
Since Jeff's Spanish is much better than mine, I nominated him to call the Embassy.  He was told that this specific department does not take phone calls.  Hmmm… that is odd.  How are you supposed to get information?
So Jeff sent an email that they answered three days later….the day after we went to the Embassy. 
Apparently, the US Embassy has adopted the customer service standards of Argentina.
Trip to the Embassy
We decided it would be best to go in the morning and bring both cash and credit cards.  When we arrived at 10:20am, we saw a line of over 100 people wrapped around the building.  Oh crap!
Lucky for us, that was the line for non-US citizens.  Not so lucky for the Argentinos.
We went right in to the security desk.  We had to leave our cell phones, cameras, and anything that could possibly be used as a weapon at the security station.  I found it odd that we had to leave our water bottles there too.
Apparently, the US Embassy has the same ridiculous fear of liquids as TSA.
We told them what business we had at the US Embassy.  We were given a ticket with the number A707 and told we would be called to Window 15.  We entered the room, and it was filled with people.  There were multiple lines, and multiple waiting areas with people filling nearly every seat.
It sounded just like you expect a government office to sound like:  crying babies, the constant dings signifying the next number has been called, and shuffling papers.
Window 15
I pointed at Window 15, and the current number was A607.  Should we be concerned that our number is 10o higher?
So we sat down, content that we did not have to stand in the lines surrounding us.
Then Window 15 jumped to A706.  Argentine math I guess.
Woohoo!  We're next!
After a wait of 20 minutes, we were called up to Window 15.  The woman looked at our passports and handed us forms to fill out.  She said to come back up to the window when we were finished.
Really?  They couldn't have given us these forms at the front desk when we told them why we were there?
Window 15 Again
So we filled out our forms and went back up to Window 15.  She verified our forms and then told us we would be called to Window 12 to pay.  And they would take a credit card.  Yea!
Window 12
We sat back down and waited until we were called to Window 12.  The woman at Window 12 processed our credit cards, handed us receipts, and then told us to take the receipts back to Window 15.
We thought this may be a good process because they were working on our passports while we paid.
Window 15 – The Third Time
Window 15 Lady then handed us a slip of paper and told us to come back at 2:30pm to pick up our passports.  So basically, we waited in multiple queues for something that could have been handled all at once in about 3 minutes.  Efficient.
However, I was still happy that this had only taken 1 1/2 hours.  I had heard stories about it being a much longer wait.
US Embassy Again
Jeff went back at 2:30 to pick up both of our passports, since I had a Spanish class.  I found it slightly disturbing that they would let someone not related to me pick up my passport, but it was convenient for me, and I was fairly certain Jeff was not going to sell it on the black market.
Jeff assumed he would show up, hand them the receipts, and they would give him the passports.  After all, they had a 3-hour time period to work on them.  When he got to the window, he was told to wait until they called his number again.  He had to wait another 40 minutes. 
As I said before… efficient.
Oh, The Places I'll Go
I survived my first trip to the US Embassy in a foreign country.  It was fairly painless.  And now that I had my new passport pages (24 more!), I got a little bit giddy thinking about how many more places I could go.  I felt a little of that same excitement I had when I first started planning my year-long Latin American travels.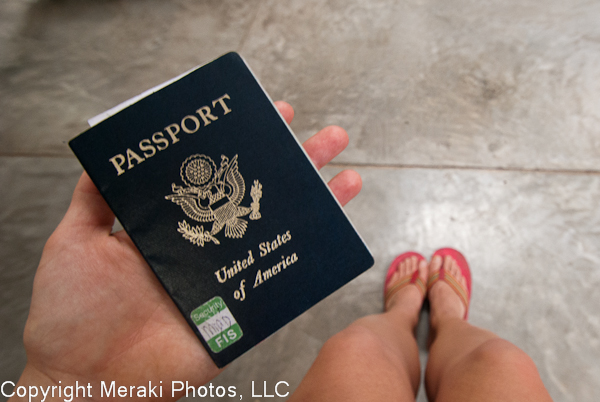 Chile, Bolivia, and Peru are on my current itinerary.  But I have a lot more pages to fill up