Before anyone calls me out, I know this is not a lyrical poem.  I just like the word ode.
As I am about to leave Central America, I would like to take a few moments to reflect on the deliciousness of the food that has helped me become a little more… um… shapely… over the past couple of months. I love food.  My enjoyment of food is one of the reasons I am a freak about exercising.  I'd rather spend an hour at the gym or jogging around my neighborhood than skip a good dessert or a savory pasta dish.  So of course trying new foods and beverages is one of my favorite things about traveling.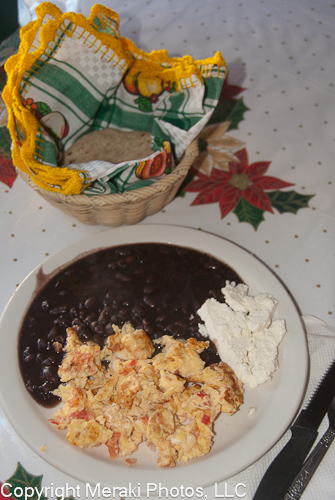 Let's start with the obvious… rice and beans.  This is a staple in Central America.  It is very cheap, filling, and a source of protein.  Why not eat it every day?  Why not eat it with every meal?  There are variations in each country as to how exactly rice and beans are prepared.   In Nicaragua and Costa Rica, they call it gallo pinto.  Gallo pinto is made with a healthy portion of lard, which is why it tastes so amazing.  I met many travelers who said they were so sick of eating rice and beans.  Well, I never got tired of it.  I do not think I ever will. And if I had not known that a "tipico" breakfast of eggs, gallo pinto, cheese, and tortillas usually contains an entire day's worth of calories, I would have eaten it every morning.
Another typical food in Central America is the tamale. At first I was quite disappointed in tamales.  Maybe it's because I found a bone in one I ate in El Salvador.  Then I tried a nacatamal in Nicaragua.  The only reason I gave the tamale another chance was because I figured that if they gave it a special name, then perhaps there might be something special about how it tastes.  I did not want to be deceived by the pretty packaging, but I have to admit that it was fun to unwrap.  Then when I bit into this steaming pillow of deliciousness, I declared Nicaragua the winner of the tamale battle.
Pretty Package

Tasty Surprise Inside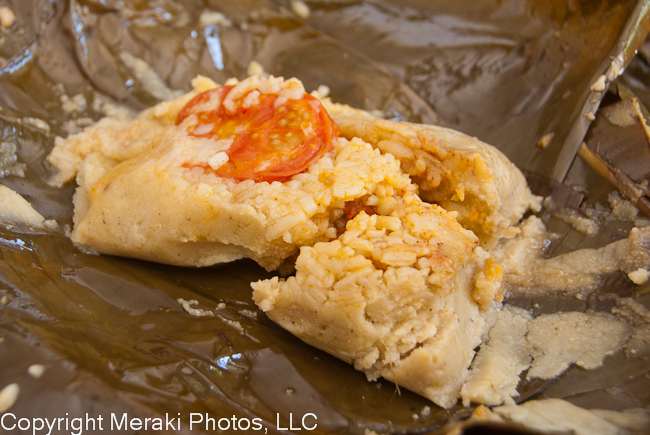 Nicaragua was actually the most delicious country in my opinion.
It is where I was first introduced to my new favorite vegetable yucca.  Whether prepared similar to mashed potatoes like in the dish vigarón I had in Granada or prepared like homemade thick-cut french fries as I had in Panama City, I couldn't get enough.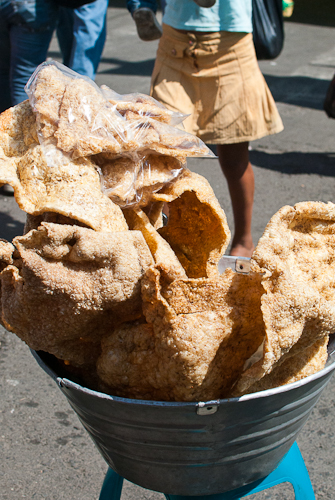 Nicaragua is also the place for pork lovers. (T, buy your plane ticket now.)  Whether you're a fan of chicharrón (deep fried pork skin) which you can buy in huge two-foot-long sheets, or whether you prefer the perfectly-seasoned chorizo ground sausage, tasty pork options are plentiful in this country.
Next, let's get into what I will call the "fast food" of Central America.  When I say fast food, I am not referring to the prepackaged, frozen, chemically-enhanced crap we have in the US.  I am using "fast" in the literal sense.  It's something you can quickly eat on the go.  At 20-35 cents each and freshly-made on roadside and market grills at least every 2 kilometers throughout the country, the Salvadoran pupusa may very well be the most perfect fast food I have encountered. You simply cannot go wrong with a hot handmade corn tortilla filled with melted cheese and refried beans.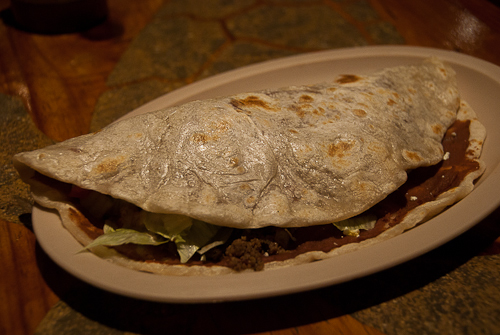 The other brilliant fast food dish I discovered on the island of Utila in Honduras.  I am not sure if it is common throughout the rest of Honduras, but if it's not, it should be.  The baleada is an extremely unhealthy but delicious meal that wins the prize for the best drunk-food; the perfect combination of carbs and fat and flavor.  The one in this picture was filled with ground beef, refried beans, cheese, lettuce, tomato, scrambled eggs, and a dressing that tasted similar to Thousand Island.
Thankfully, there is also fresh fruit everywhere in Central America, whether you buy it from a large central mercado or from a small stand on the side of the road.  If it weren't for having fresh, cheap bananas, papayas, avocados, and pineapples readily available, my clothes probably would not fit anymore.  Nicaragua wins the prize for the largest papayas.  The ones in this photo were at the mercado in León, and they were almost three feet long.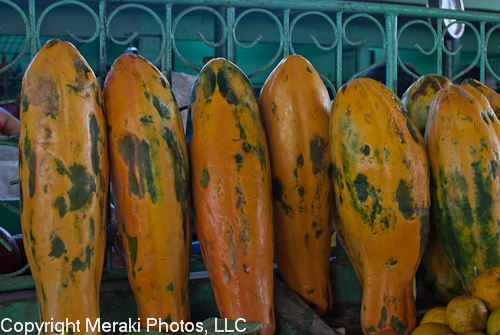 The other thing I love about Central America is the fresh-baked bread.  Antigua, Guatemala wins the prize for most panaderí as and best bread out of the cities I visited.  But the bread is truly great everywhere.  During my whole time in Central America, I never once bought a loaf of commercially-made bread at a grocery store.  And the best part is the bicycle bread delivery man, honking his clown horn at 6am every morning.  Yes, some may find this to be annoying to wake up to.  But I loved being able to buy small portions of fresh-baked bread daily without even leaving my hostel.  Plus it was my wake-up call to put on my running shoes and burn some calories before gorging myself on whatever delightful local dishes caught my eye.
I look forward to more delicious and new foods in South America.
Having already been to Argentina once before, my mouth is watering as I think about the steak, the chimichurri, the facturas, and the wine.  Ah….the wine.
I may need to buy some new pants with elastic waistbands.