I do not normally post this many times in a week, but I had to share these fun photos from my Patagonian Trails tour with Adventure Center.
One of the benefits of a guided tour is getting to know the people in your group.
I have discovered in my travels that Aussies are a lot of fun, and this group of Aussies certainly made this an even more enjoyable and memorable trip for me.
One thing I will always remember is getting to the top of the hill where we had a gorgeous view of the laguna, the glacier, and the mountains and hearing:
This is a great planking photo!
What is Planking?
Planking is an Aussie thing.  I read an article online that it started as a "weird thing to do in a public place," and it seems to have evolved into a travel photo tradition.
David Planking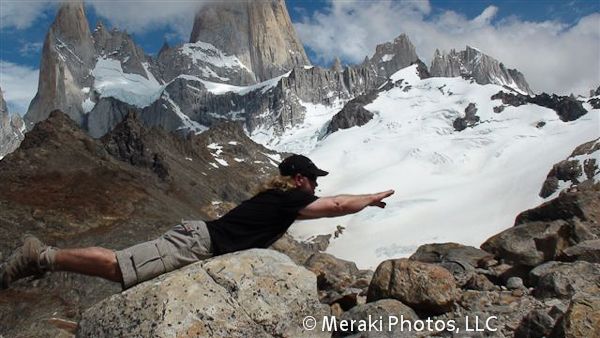 Me Planking
So it's kind of like O-H-I-O
I made the group indulge me for an O-H-I-O photo.  That's what we alumni from THE Ohio State University do when we travel.
They had no clue what I was making them do but were happy to humor me.
What photo traditions do you have?
 ___________________________________________________________________________________________
This post is part of a series about my experience on the Patagonian Trails Tour with Adventure Center.  I was very impressed by their range of tour options from light to extreme adventure all over Latin America and the rest of the world.  There really is something for everyone.  Adventure Center handles all bookings with Peregrine for North American clients.