It seemed as if the sign had been up forever, paper covering the windows.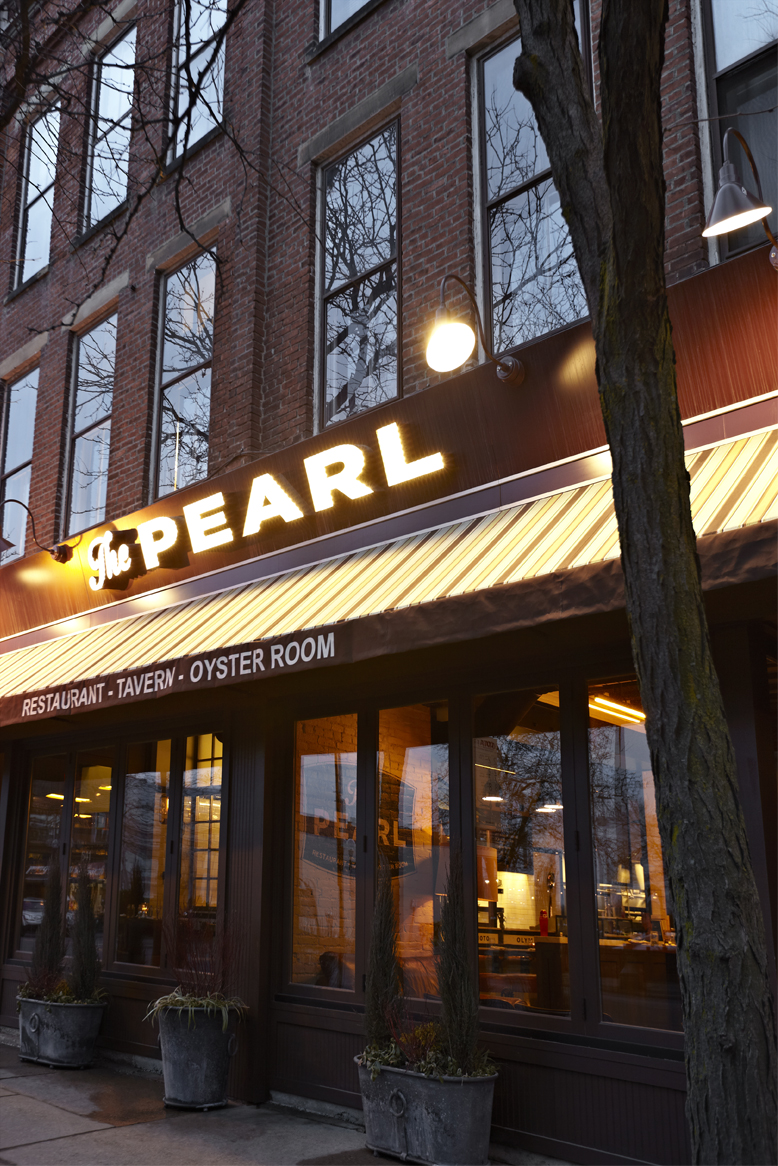 Who is this handsome newcomer?
The lit-up sign and the name itself made me think it would be classy and comfortable and bring something special to the Columbus restaurant scene, in particular the Short North Arts District.
I avoided the early crowds when the restaurant first opened in February, but I finally got my chance for a first date a few weeks ago.
It had been a while since I went out to a new restaurant in Columbus.
I have my favorites, and I am loyal.
But every once in a while, a girl needs to try something new.
The design and every decoration detail of The Pearl has been carefully attended to, somehow combining vintage, fancy, urban, and rustic into a classy yet casual, inviting atmosphere.  They threw in a little "hipster" vibe too with the servers in their identical dark-washed jeans, plaid shirts, and vests.

So yeah, it's cool inside.
But I am looking for something more than good looks.
I need substance.
  (Yes, that means the food has to be good too.)
The Pearl knew exactly what kind of beer I like.
They have a wide variety of craft beers on tap and several bottles.
The food menu is the perfect size.
(Read into that whatever you like.)
There are not so many dishes that it is overwhelming but enough to make you think about your decision.
The dishes are fun, creative, and attend to every detail.
(Who is not looking for that in a partner?)
The Pearl is known for making its food from scratch, a trend I am happy to see spread in Columbus.
We kept the server at our table for several minutes asking questions.  He was knowledgeable, shared his opinion, and didn't rush us at all.
I had to try the Hand Cranked Sausage Sampler because well, I've never had hand cranked sausage.

I also had to have the Devils on Horseback because that's a fun name, and when I found out that this starter consists of dates stuffed with gruyere wrapped in smoked bacon, I was sold.
For some reason I was craving a burger.
I know it seems lame to order a burger at a restaurant like this, especially on the first visit, but this was not just any burger.  The Pub Burger is made with ground skirt steak and ground duck.

And I do believe it may be the very best burger in Columbus.
The cambozola cheese was the perfect flavor, and it was served with a homemade tomato jam – way better than ketchup.  Even the bun was perfect.
My friend ordered the Braised Short Ribs, and we both agreed it was incredible.  (Yes, this was a triple date.) 
Although the portion is somewhat small, The Pearl does short ribs better than any place I have ever been.
The Pearl is also known for their homemade pies.

They make several types and rotate them, usually having a few on the menu each night.  This warm blackberry cobbler had a little too much sugar in it for me to go beyond a few bites, but I could taste the real, basic ingredients.  It was as if someone's grandmother was back in the kitchen whipping up pies.
My first date with The Pearl was great.
I can't wait for the second.