During a visit to Buenos Aires, it is almost impossible to miss the graffiti.
It is everywhere.  The graffiti ranges from simple spray-painted tags to more elaborate and beautiful works of art covering entire buildings.  I wanted to learn more about the graffiti art in Buenos Aires.  When I found out that two local tour companies Biking Buenos Aires and Graffitimundo had teamed up to offer a graffiti tour on bike, I knew this was the perfect tour for me.
Normally I avoid paid tours or package holiday deals, especially when it seems like something I can just research and do on my own.  I can assure you this specialized tour was well worth the money and my afternoon.  The guides from Graffitimundo know their stuff and have learned from the artists themselves.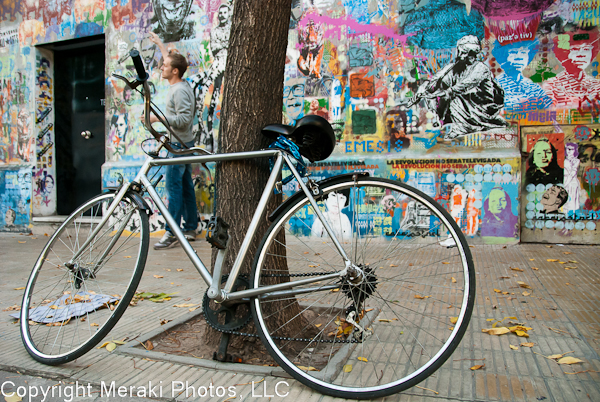 What is unique about graffiti art in Buenos Aires?

Graffiti evolved slower in Buenos Aires than other parts of the world such as New York City and London.  In the mid-90s, it was no longer about their own tag but about creating art for the public.  There are two major events in recent Argentine history that have contributed to the political nature of some of the graffiti:  the disappeared ones of the mid-1970s to early 1980s and the financial collapse of 2001.  Politically and economically, things are not so great in Buenos Aires today, and this continues to fuel the content of much of the art.
Is is not considered vandalism.
Whereas in other cities the people were initially afraid of the graffiti movement and thought that it was a sign of civil unrest and potential violence, graffiti was not interpreted this way in Buenos Aires.  It was accepted, embraced by the people. Graffiti artists did not have to run around at night painting their work in secrecy.  They painted during the day and still do.  This allows the time for more detailed and elaborate works.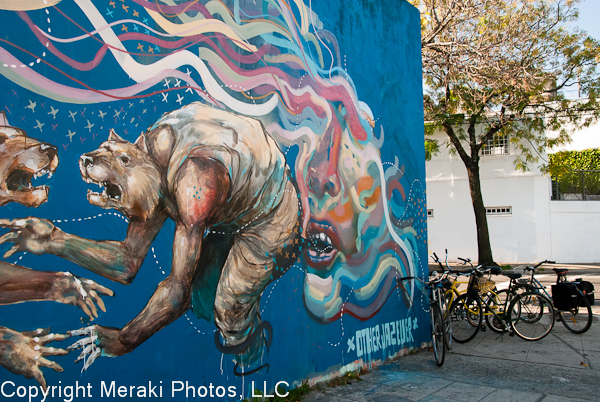 Graffiti artists are also invited to paint public spaces like the one in the photo below, as well as the exteriors of homes and businesses.  Sometimes the graffiti artists will knock on a door and ask for permission to paint.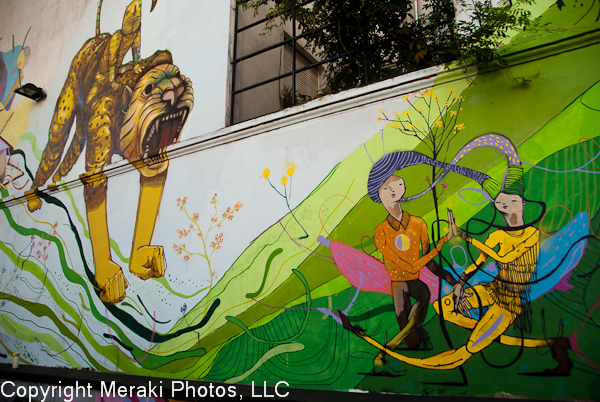 Collaboration is a critical element.
Another unique aspect of graffiti art in Buenos Aires is the collaboration between graffiti artists.  During the evolution of graffiti art, there was a group of artists called the DSR crew that starting working the streets together and sometimes still collaborate.  Jaz, Ever, Dano, and Mart were part of this group, and these artists are still prolific today.
The concept of collaboration has been taken even further in Buenos Aires.  It is common and acceptable for one artist to come along and add to the work of another artist, incorporating their own artistic vision.  There is a great amount of respect in the artist community.  Renowned graffiti artists from other countries often participate in this collaboration as well.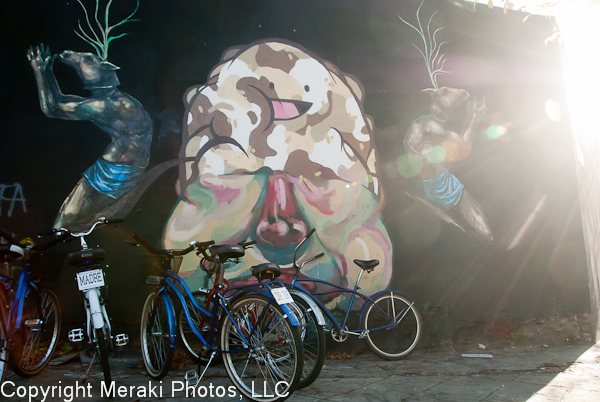 Types of Graffiti Art
Although graffiti is still done with aerosol, often actual paint is used.  This of course involves more set up time, but that is a luxury the artists of Buenos Aires have.
Stencil art is another common type of graffiti.  While simple stencils are still frequently used to quickly disperse political messages throughout the city, this art form has evolved as well.  The stencils can be quite elaborate and require a lot of time and artistic skill to prepare and paint.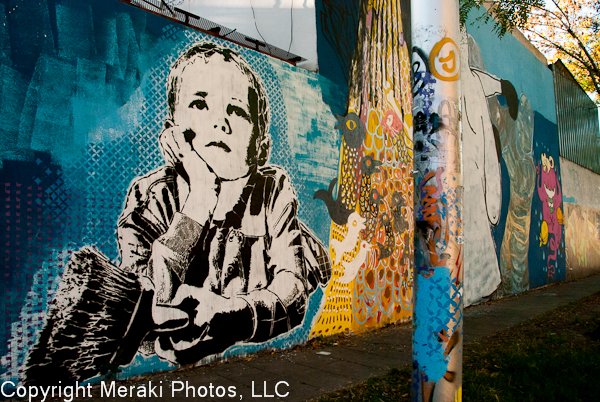 The artist painted this as a statement about the new trend of buying tiny dogs.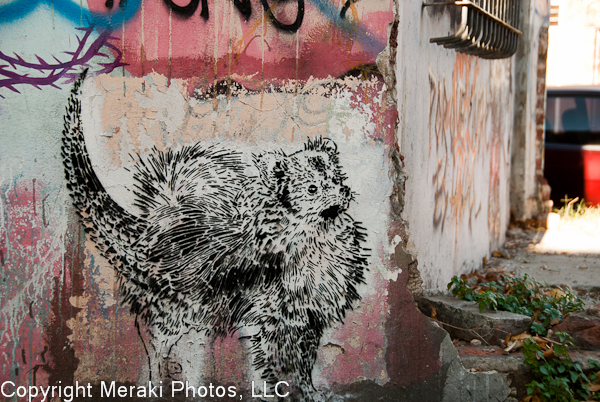 Meet the Artist
The most unexpected part of the tour was meeting Jaz, one of the most well-known graffiti artists in Buenos Aires.  The tour passed by the art studio where Jaz and his staff design and create sets for Teatro Colón.  Yep, that's his day job.  We were able to quickly pop in and take a look around.  We even saw the artist at work doing some touch up painting on the exterior of his studio.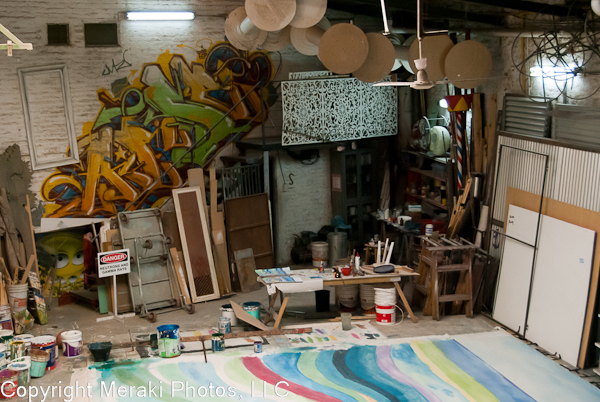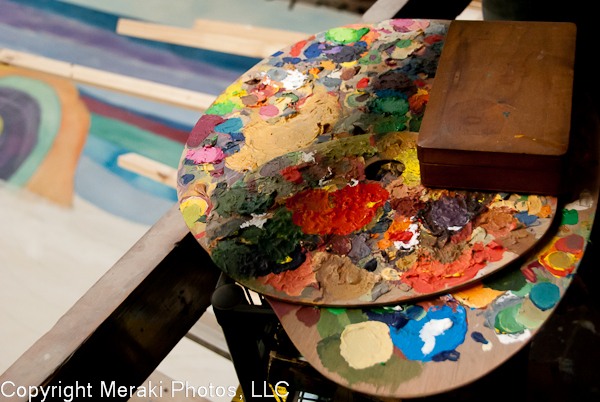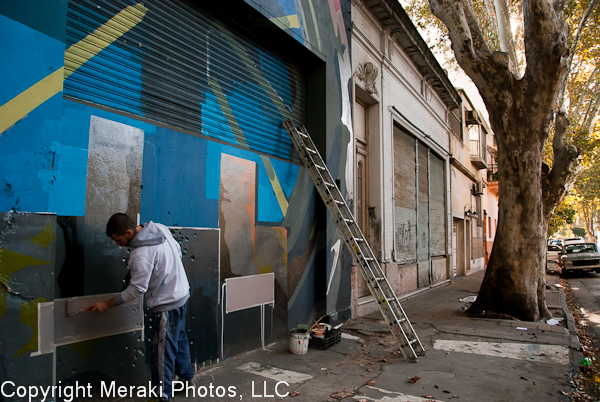 The Stories Behind the Art
In addition to seeing many beautiful and intriguing works, I learned the stories behind them.  This was the most enjoyable part of the tour and something I would not have discovered on my own.
This piece is about the slowness of the justice system.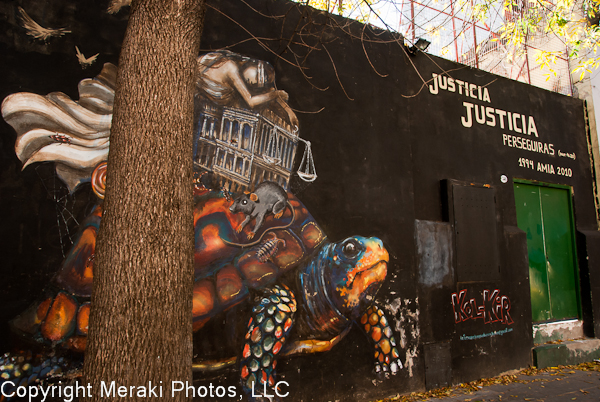 my favorite story
About 6 months ago, an artist from Peru named Jose Carlos Martinat wanted to create art based on the concept of vandalism.  So he used a chemical which allowed him to remove sections of graffiti by other artists.  Jose had stolen something that was given to the public to enjoy and was making it so that only the elite and wealthy could see it.  The graffiti artist community reacted.  The opening night of his exhibition in Buenos Aires, some of the artists showed up and destroyed their own pieces.  In the photo below, you can see where the woman's face was taken off the wall.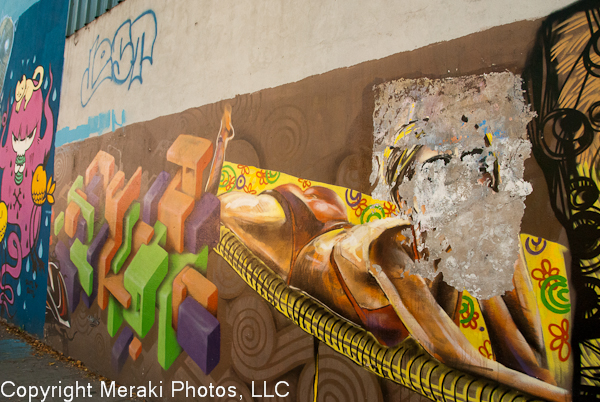 Chicks rock!
This is a piece by Pum Pum, a female graffiti artist who goes against the norm and paints girly images.  She is completely accepted into the graffiti community in Buenos Aires.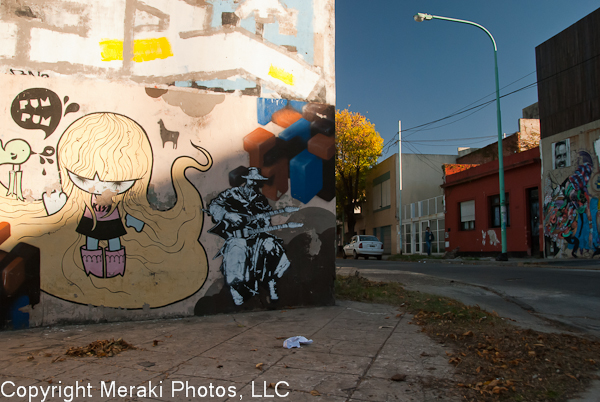 Never Date a Graffiti Artist
The artist created this piece when him and his girlfriend broke up.  He is saying, "Bitch in a mask."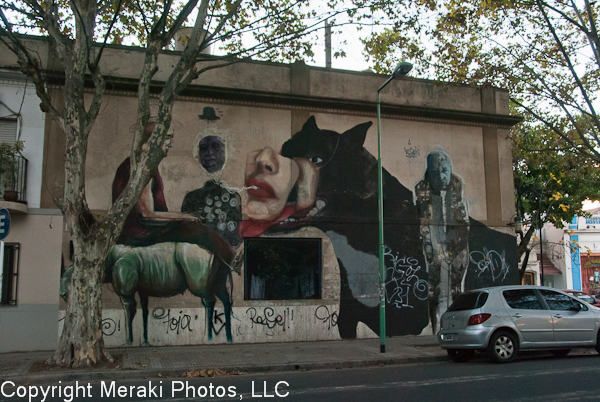 Click here to view the full album of Buenos Aires graffiti art.
You can find more information on the graffiti artists of Buenos Aires here.