I am ashamed to admit that in a moment of desperation, I made the worst decision of my entire trip.
I had been living in hostels for five months.  I needed my own room.  I needed a decent kitchen.  I needed to NOT be surrounded by 22-year-old backpackers.
I used multiple websites that match up people who have a furnished room to rent short-term with people like me.  I was dead-set on living in Palermo, one of the most expensive areas of Buenos Aires, which gave me a limited selection within my budget.  (Before you judge me, my two main reasons for living in the fancy neighborhood were safety and proximity to a park that I would run at every day.)
I settled.
After looking at multiple devastatingly disappointing rentals that were at the very top of my budget, I looked at an apartment in the perfect location.  The apartment was okay.  The bedroom had more than 4 square feet of walking space and a window, so it was better than all of the other rooms I had seen.
The owner, who I will refer to as Cruella, is a little old Argentine chef. She told me that she prepares dinners some nights for friends and goes to the theater often, and I would be invited to join.  I was not in love with the overly-cluttered apartment, and I had a bad feeling about this seemingly nice old lady.
But I ignored my gut instinct.  It was the perfect location.  And at least I would be living with someone with whom I could practice Spanish and learn about the culture and people of Buenos Aires.
WRONG!
It is a little difficult to practice Spanish and ask questions about the culture when you are no longer on speaking terms with someone.
As soon as I moved in, I discovered that Cruella is the most anal-retentive, unreasonable, and unsympathetic person I have ever known.  Every time I walked in the house, I was being reprimanded for something I did wrong, always a new rule I had not yet been told.
My Breaking Point
I put up with it for five days, and then I remembered that I am 29-years-old and do not deserve to be treated like a disobedient child, especially when I was paying this woman an exorbitant amount of money.  After being reprimanded for using the toaster, I hit my breaking point and told her how I felt.
The conversation was in Spanish and went something like this:
Me: "I do not understand.  Why can't I use the toaster?"
Cruella:  "Because you cannot touch any of the electrical machines in the kitchen."
Me:  "Why not?  And why am I only allowed to use one tiny pan for cooking when you have 15 other larger pans? "
Cruella: "Because people from the United States do not take care of things."
At this point, there was a period of silence as I processed this highly offensive statement.
Me: "I do not feel comfortable living in your house.  You have so many rules about everything.  Every day there are more rules.  Living here is like living in a prison."
Cruella: "You already paid.  That is your problem."
I do not think I will be invited to dinner or a night out at the theater anytime soon.
Meet Cruella
This is a giant professional photo of Cruella and her evil dog displayed proudly in the living room.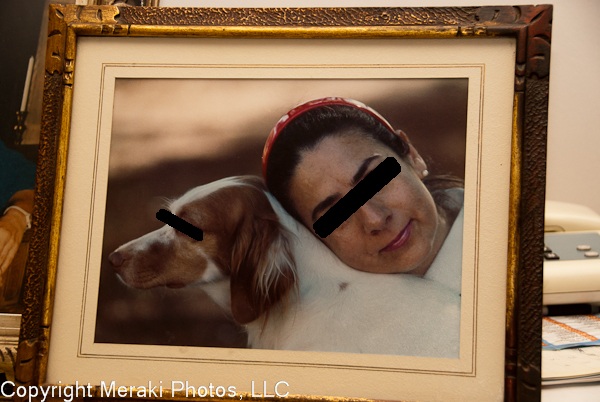 Don't eat the membrillo.
Cruella makes a living selling dulce de membrillo, a traditional Argentine sweet.  Because this is a multi-day process and she has the tiniest kitchen in the world, the stuff is laid out drying all over the house.  Note that some of it is only about 6 inches off the ground.  Remember how Cruella has a dog?
do you think Cruella's misbehaved dog doesn't sniff all over the membrillo?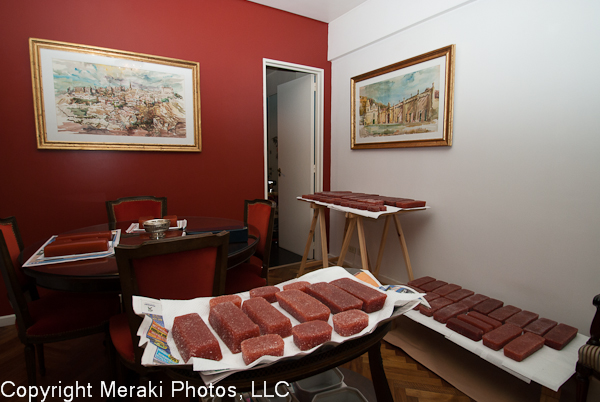 I don't know where Cruella sells this stuff, but I know I will not be eating membrillo anywhere in Buenos Aires.
At least I only paid for one month…
Read part 2 of the Cruella saga: My Daily Toilet Paper Allowance & Other Bazaar Rules
It gets event better with part 3 of the Cruella saga: The Day Cruella Put Me Out on the Street