After stressing about my first poorly planned border run and then recovering enough to remind myself that it would not be the end of the world if this was not the greatest day of my life, the big day arrived.
Early wake up call.
For the 8am ferry, Jeff and I had to be at the port at 7am for check-in/ passport stamping fun.  That meant that I had to leave my house at 5:45am to take the bus to Jeff's house and then take another bus to the port in La Boca.
My alarm went off at 5am. If you remember my post about the lifestyle of a Porteño, you know that 5am is not an hour they normally see unless they are still up from the previous night drinking a liter of Quilmes on the street or making their way home from the boliche.
No time to eat breakfast. A hungry Stephanie is not a happy Stephanie. I told Jeff that I hope breakfast is more than medialunas.
Why would I think they would serve anything for breakfast besides medialunas in Argentina?
Because my brain was not functioning.
Immigration process.
Jeff and I both agreed this was the most efficient border crossing we had ever experienced.  When we checked in, we received all papers we would need and only had to fill out two boxes on the immigration forms.
Then we put our bags through a scanner.  No problems… even though I had an apple in my bag.  I think I have had an apple confiscated at every border crossing.
Argentina and Uruguay receive two thumbs up for border efficiency.
On the ferry.
Guess what the "included breakfast" was.
I ate my 2 medialunas knowing I would be starving again in 30 minutes.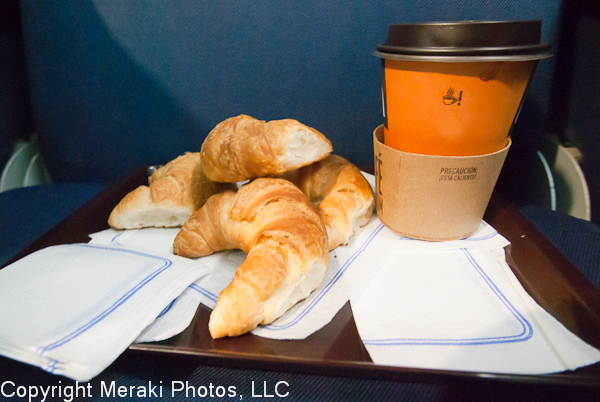 The boat was a decent size and equipped with televisions in case you are incapable of sitting still for a whole hour without entertainment.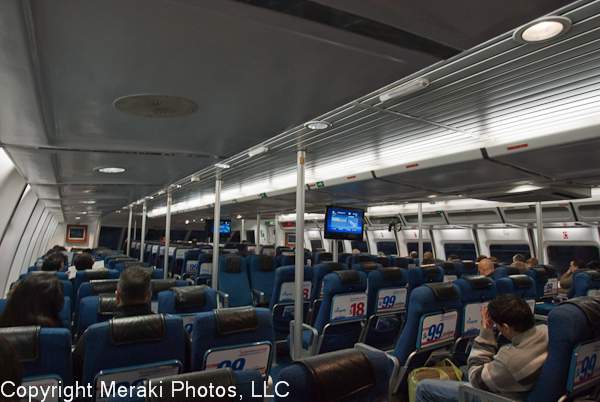 Arriving in Colonia del Sacramento.
An hour later we arrived in Uruguay.  Note that I had bought a hat and gloves to prepare for the cold and windy conditions I had been warned about.  You would think I was going on an Arctic expedition in this photo.  But I was sooo glad I had them, or I might have froze to death.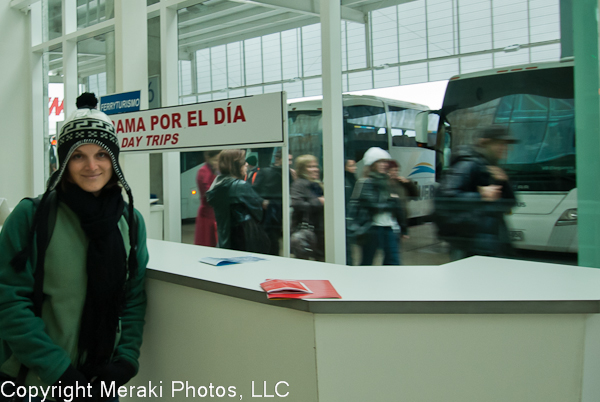 We took our one-hour city tour and learned about the things we could do and see.
The list included:
5 museums (purchase one pass to get into all of them for about US$3.50)
Lunch at a restaurant in the historic area
Rent bikes/ scooters/ golf carts or take a bus through the new town to the Plaza de Toros (5km away)
The town itself was exactly how everyone describes it:  a small, pretty colonial town. But I've seen better (Antigua and Granada for starters).  The sky was gray, but the sun did peak through for maybe an hour.  I was just happy we were spared the rain.
There was a  lighthouse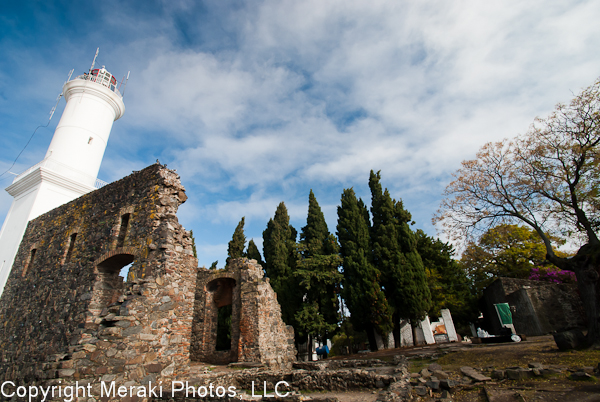 AND LOTS OF OLD CARS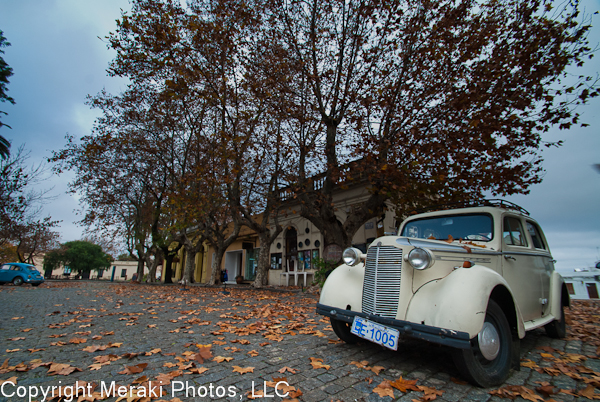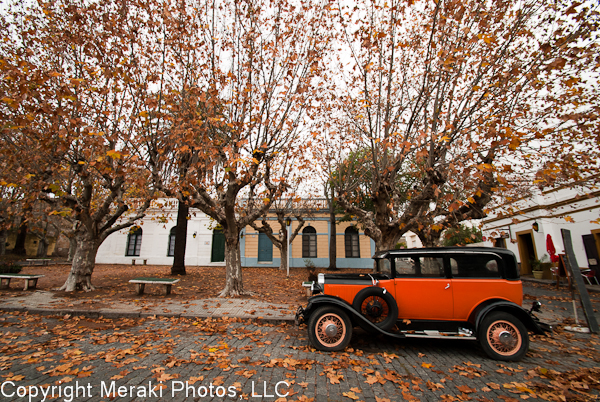 and the same trees i love in buenos aires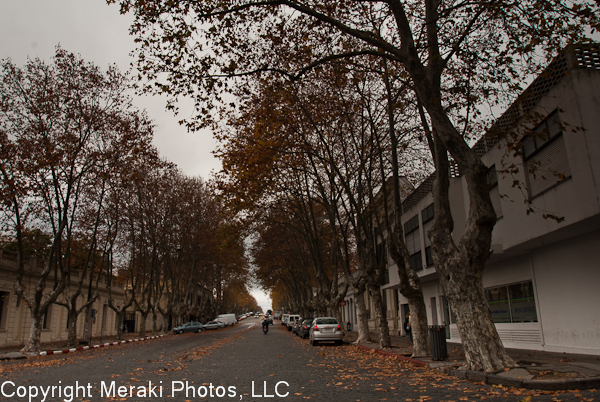 and colorful buildings lining cobblestone streets
and friendly dogs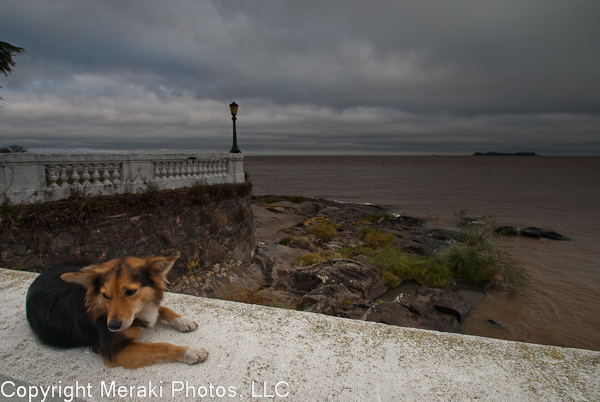 then there was this bizarre giant chess set made of plastic bottles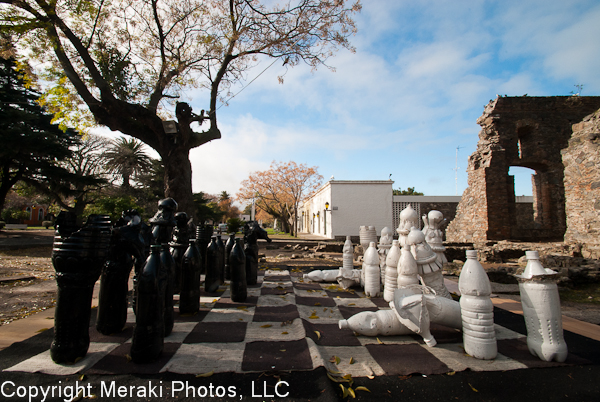 Museums
I typically do not like museums with historical artifacts like dishes and pottery and old furniture.  But there were not many options, and we had a lot of time to kill.
If you are the type to enjoy museums, let me tell you not to get your hopes up about Colonia.  The museums in Colonia are ridiculous. I am not sure how they can actually call them museums.  It only took us 30 minutes to see all of the museums.  I am not exaggerating.  30 minutes in total, including walking time.  Each museum was so tiny.
The most ridiculous museum of all was just filled with rocks in glass cases. There was nothing special about the rocks as far as I could tell.  They were mainly round and of varying sizes.  Seriously, just rocks.
For some reason, all of the museums had signs posted that you could not take photos.  But I took a photo of this sign because I found it amusing. I guess they want you to know that children are not banned from the museum as long as they are capable of walking?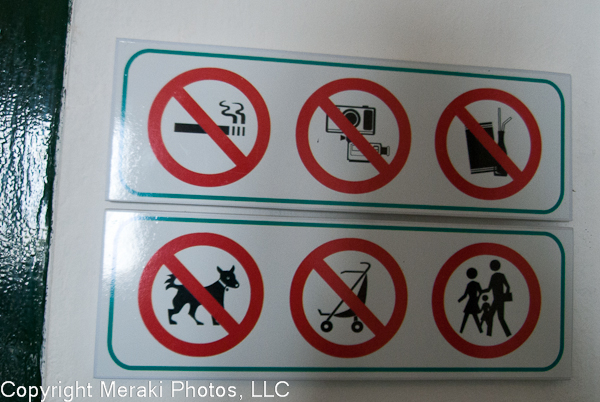 A least we got to try a Uruguayan dish for lunch.
I had been told we need to eat chivito.  So that's what we were going to do.
The funny thing is neither of us had any idea what it actually was.  But damn it, we were in Uruguay and were going to try whatever their typical dish is.
Chivito is basically a heart attack on a plate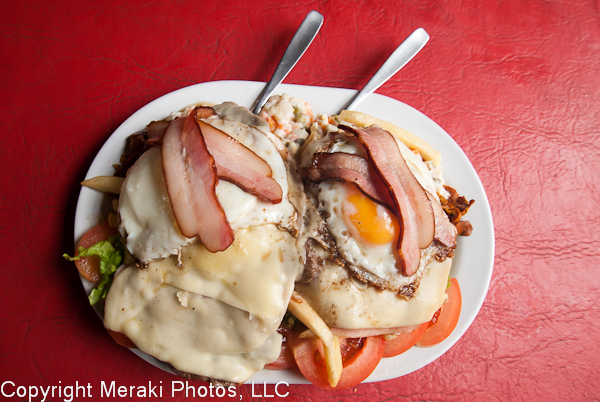 Steak topped with ham, cheese, bacon, and a fried egg.  The dish came with what they call salad (really just some lettuce and slices of tomato), some weird mayonnaise mixture with carrots and peas, and French fries.
Delicious and filling.
Filling like concrete.
So what do we do next?
We only have 5 hours to kill before we have to check in at the ferry?
10KM Walk
The only other thing to do was see the historic Plaza de Toros.  We could take the bus, but that would be a quick trip.  What would we do when we got back?
So we decided to walk.
We came across a bunch of military equipment set up in the street.  The kids were having a great time playing on the tanks and with the guns.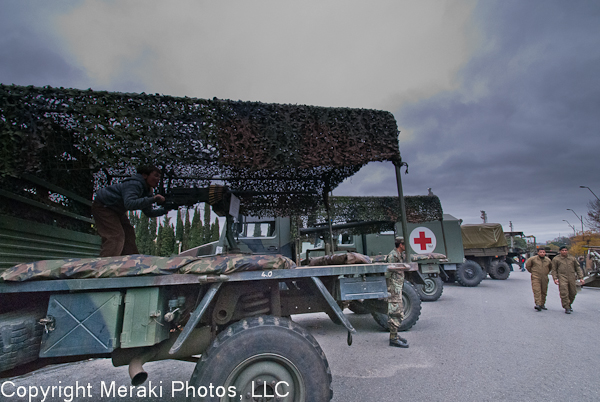 And so did I.
After this, we saw absolutely nothing else of interest during our walk to Plaza de Toros.  The "beaches" of Colonia are little more than patches of sand along the road.  I didn't even bother to take a photo.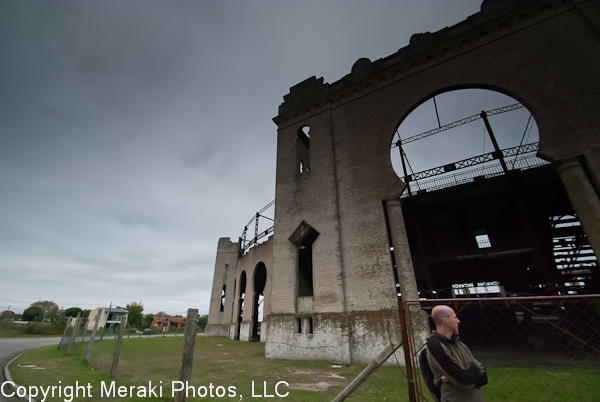 Must kill more time. What can we do?
Let's eat one of those alfores we saw advertised as the "best in Uruguay."
It was delicious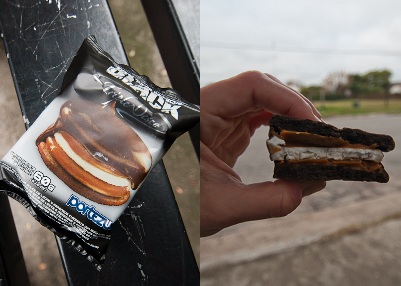 We took a different route back through the actual town instead of along the coast.  Jeff and I joked about how incredibly boring the town was.  I think what makes this colonial town different from my experiences in Central America is the fact that nobody actually lives in the historical part of town.  It is just a tourist attraction.
Desolate was the word we decided was most descriptive.
Here is the only thing I saw of interest on our walk back to the port.  A pirate museum.
But we could not go in because this was a "private pirate museum," and our pass would not work nor would they take Argentine pesos.  There was not a person in the museum, and they were turning away business.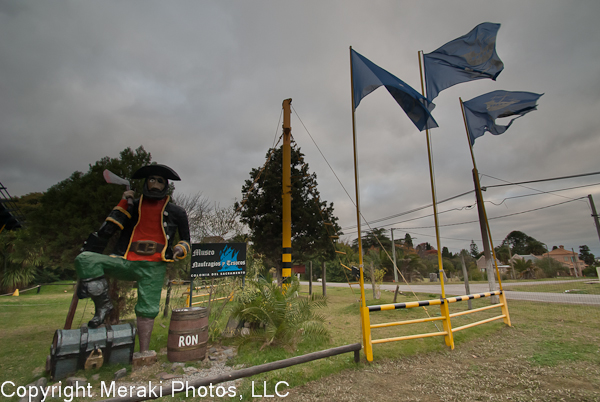 That's it.  That's Colonia.  Been there.  Done that.  A successful border run.