Remember how I learned to salsa dance in Quito and Nicaragua?  Remember how much I loved it and even made a video because I was so proud of myself?
I wanted to learn to tango in Buenos Aires.
Well, I did try.  But I suck.  Tango is really hard.  I do not enjoy it nearly as much as salsa. 
So I quit.  And I am okay with that.
When I first arrived, I was told about La Viruta.  For 25 pesos (US$6.25), you can go to this dance hall in Palermo Soho and take multiple classes and then stay for the open tango practice and even see a professional show on weekends.
I went every Thursday.
I even bought the package of 5 tickets for 50 pesos.  An awesome deal.  Every Thursday starting at 6pm, I attended a tango lesson, a salsa lesson, a milonga lesson (don't even get me started on what the difference is between tango and milonga), and then another tango lesson.
I even stuck around late (highly unusual for a girl who likes to be in bed by 11pm on the weekdays) to watch the open tango practice and the professional show.  I was amazed to watch the couples during the open tango practice.  They looked like professionals. Their bodies seemed to be welded together.
Tango is similar to salsa in that the man decides the steps.
There are many different steps you learn, and the man chooses which of the seemingly thousands of combinations to do.
How does the woman know what to do?
You have to be able to read the pressure of his hand in yours combined with the direction he is moving your body with his other hand.  It ain't easy.
During my group lessons at La Viruta, I found it nearly impossible to follow a man's lead. Then I realized that was most likely because I was practicing with a man who was also trying to learn.  Nobody was really teaching him how to lead.  He was merely learning the steps and then walking on top of me and wondering why I didn't know what he wanted me to do.
When the instructor came around and showed the man how to lead me, it was better… for about 5 minutes.  Then he was back to dragging me around the dance floor.
So I asked about private lessons.
In Buenos Aires, it costs US$50 an hour for private lessons. Es ridiculo!  I paid 1/5 of that for private salsa classes in Ecuador and 1/10 of that in Nicaragua.  Yes, I know that the cost of living is higher in Buenos Aires, but this was definitely out of my budget.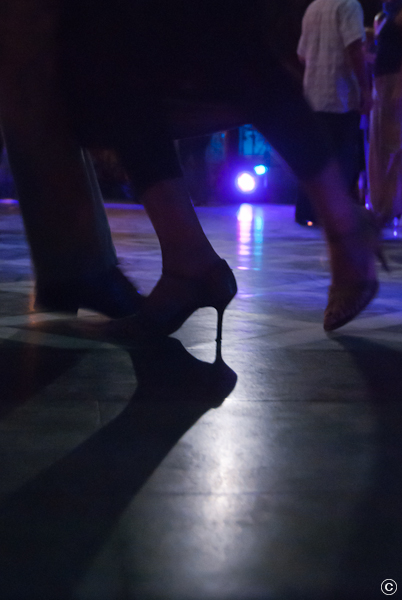 Even if it was cheaper, I still would have quit.
I enjoy listening to tango music.  I enjoy watching others dance tango.  But I do not have the same love of the music and the movement as I do with salsa.
I decided that tango is not for me.
Tango has an interesting history.  If you are interested to learn more about tango check out Abby's post at The Jungle Princess.