I am curious about people and their stories.
How did they end up where they are?
Where have they been?  Where are they going?
What interesting skills do they have and how did they figure it out?
What makes them happy?
This curiosity is part of what drives my desire to travel.
CHICABRAVA's all-girls surf camp brought together a group of amazing women I got to learn from and be inspired by. And we all just got to hang out and be girls. No other roles to fill.  No expectations except to surf.
The chicas from CHICABRAVA
Meet Neolani
Noelani is the quintessential Hawaiian surfer chick.  She has this incredible laid-back demeanor and genuinely cares about everyone who passes through the surf camp.
During our first surf theory lesson, Neolani  taught us the Hawaiian word Kapolioka'ehukai, which means "heart of the ocean."  As she talked about the history of surfing and how women bring grace to surfing and to everything we do, I could see how much she loves her culture and the opportunity to share it with us.
Noelani is a bad-ass chica too.  The day before camp started, she broke her surf board in half riding a wave.
Meet Elsi
Elsi is one of the first female Nica surfers.  This blew my mind, and I finally understood how limited this sport has been for women, especially in this part of the world.
I spent most of my surfing time in the water with Elsi, and she is an excellent teacher.  I was surprised to learn that she didn't even speak English a couple of years ago.  She became close friends with the owner Ashley, and Ashley encouraged her to learn English, so she could be an instructor.  Elsi started working at the surf house shop a couple of years ago and learned English from practicing with the customers.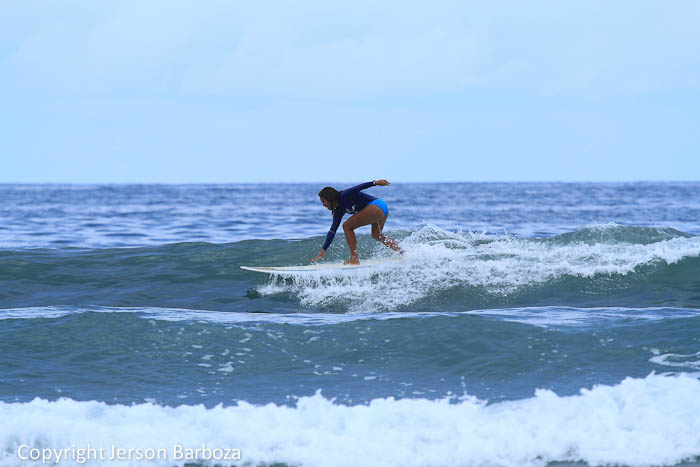 In addition to surfing and teaching, Elsi has an adorable son who we got to meet at dinner one night and she is working on her bachelor's degree.  I am always amazed by how many things women can do and be.
Inspiring!
Meet Lauren
Lauren is from South Florida.  She looks like a surfer and talks like a surfer.  My favorite experience with Lauren was on Day 3 when we were out in the lineup at Playa Hermosa, and Lauren noticed a really young Aussie girl out surfing with her dad.  Lauren's dad taught her to surf, and her face lit up when she talked about those memories.  Lauren cheered on the Aussie girl every time she caught a wave.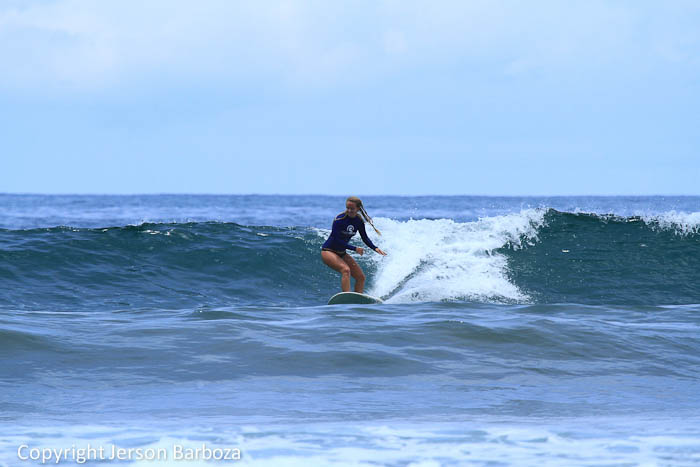 CHICABRAVA (translation: brave girl) is about empowering women.  And there is no better time to start than when they're little girls.
Meet Surf Campers Kymri, Kimberly Dawn, Sarah, and Teresa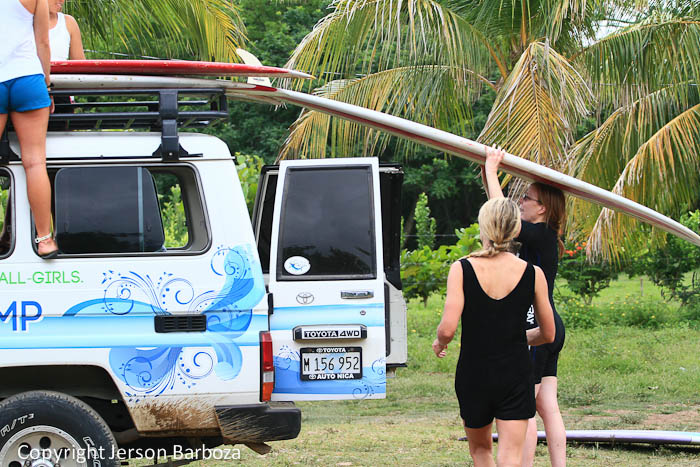 Five solo female travelers who had never met before showed up in Nicaragua to attend a surf camp together.  We came from all over (Oregon, California, NYC, and even Peru), but I am the only one who came from somewhere with no access to surfing.
Even though we come from different backgrounds and span the age range of 20s to 40s, we had lots of fun girl time at the surf camp.
We shared our favorite music on the bumpy rides to the beaches.  We did yoga together.  We ate dinner at local restaurants together.  We watched surf movies at the house every night.  We shared travel stories and life stories.  It really was like being at camp except instead of talking about boys and gossiping about our friends, we learned about each other, and I have to say I was inspired by each and every one of these ladies.  (Okay, there may have been a little bit of talk about boys.)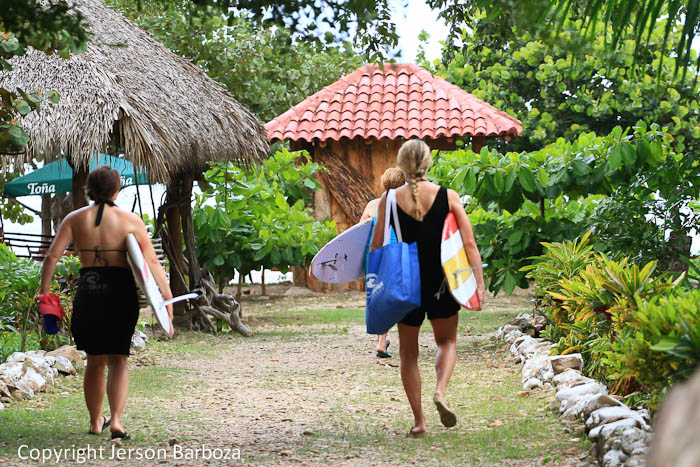 Kymri was the best surfer of our group.  She grew up in California and always wanted to surf (her brother did) but finally decided to learn after she became a mom so that she could teach her daughter.  Kymri is also an amazing photographer and lives the dream of traveling for work.  Check out her post with some great GoPro video and photos she took with this really cool Watershot Pro iPhone housing kit.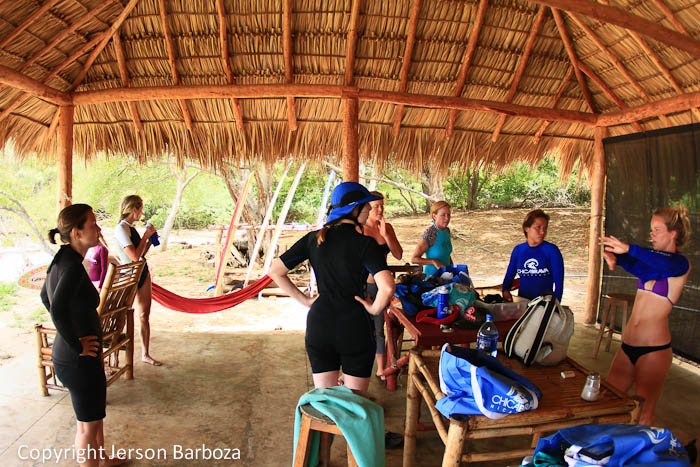 Kimberly Dawn is quite possibly the happiest and most energetic person I have ever met.  She's electric with a bigger-than-life personality.  The girl recently decided to start surfing, borrowed her friend's board, and took the NYC subway to the beach.  She is a person who doesn't seem to see all of the excuses for not trying.  K-Dawn is all about having fun.
Sara is originally from Montreal and now living in Lima, Peru, where she surfs with the locals.  She was the youngest of our group; smart and knows what she wants.  If she wants cake for dinner, she'll have it (and she did).  She reminds me of little of myself – or maybe how I like to think of myself in my mid-20s.
Teresa was the other newbie, so we learned together the first day.  Teresa is a little quirky, but I mean that in the best way.  The more I talked to her, the more I realized she is full of surprises.  I could tell surfing was completely stepping outside of her comfort zone, and it was awesome to see her out there giving it a go.  Read her take on being a chica pollo.
Meet CHICABRAVA Owner Ashley Blaylock
I have to admit I was not expecting to see a nine-months pregnant woman walk into the surf house.  I was even more surprised to discover that it was Ashley Blaylock, the Texas lawyer who started CHICABRAVA.
When talking about how she got the idea for CHICABRAVA in 2006 and did the first camp in 2007, I got the impression that she is just a regular girl who has a positive outlook on life.  After living in San Juan del Sur and splitting her time between surfing and working at a realty company for a few years, she decided to pull the trigger on her idea.  But she admitted to fears about starting a business in Nicaragua, and she talked herself through it.
"Life is not a dress rehearsal.  I need to do something meaningful and not wait until tomorrow to do it."
Ashley is also still very conscious of contributing to the local community.  She differentiated her business because she didn't want to take away from those who were already established.  She hires locals when possible.  If there is another female Nica surfer who can speak English and knows how to teach people to surf, Ashley says there's a spot waiting for at CHICABRAVA.
Ashley's latest project takes her commitment to the community even further.  Camp Bella started last year as a week-long surf camp for young girls who have been rescued from sex trafficking.  The week is focused on empowerment, education, and body awareness.  It was obvious as Candace, the Administrative Manager at CHICABRAVA, teared up explaining how special the experience was for the girls that it was also transformational for the CHICABRAVA staff members who volunteered their time and made it happen.
Because of last year's success, Ashley has decided to make Camp Bella an annual event, and they have already started fundraising.  Their goal is a very achievable $4,000 by December 1st to cover a one-week camp for 6 girls ages 13-16 plus 2 chaperones.
I have already made my contribution for this year's camp, and if this is something you would like to support, you can donate any amount here.
Are you inspired yet?