I never thought I could surf.
Before I started my travel sabbatical three years ago, I lived my entire life in the Midwest of the United States.  Needless to say, we don't get much exposure to surfing.  In fact, I do not think I had ever seen anyone surf in person until I traveled through Central America.
I did attempt to surf in Nicaragua and in El Salvador, but I was using a borrowed board (no clue what size it was) and didn't take lessons.  I had no idea what to do, so you can imagine how that went. I left both experiences assuming I just wasn't the surfer type.
I got a second chance thanks to CHICABRAVA.
And it turns out I might just be a surfer chick!
When I read about Chicabrava in San Juan del Sur, Nicaragua, I knew I had to go.  I was getting antsy because I had not been out of the country in over a year.  Nicaragua has been on my mind.  I cannot pinpoint specific reasons why, but I loved the time I spent there during my travel sabbatical.
While I was in Portland, I booked my flight and committed to learning to surf.
    (Note:  It is always a good idea to book your next trip before you get home from a trip.)
CHICABRAVA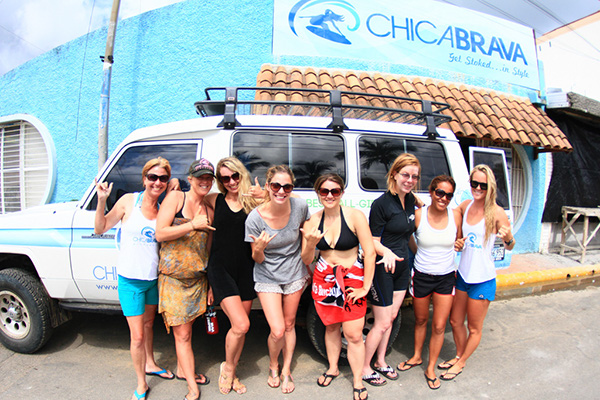 Started in 2007 by US-native Ashley Blaylock, CHICABRAVA is an all-girls surf camp in San Juan del Sur, Nicaragua.  Ashley fell in love with surfing in Nicaragua and moved there shortly after getting her law degree and passing the bar exam.  She got a job that paid the bills and allowed her plenty of time for surfing.
But she wanted to do more.  As one of the few female surfers in the region, Ashley felt like somewhat of an ambassador to the slowly-increasing number of chicas coming to surf.  She wanted her business venture to focus on the females and to have more of a "camp" feel.
An all-girls surf camp was just what I needed.
The dedicated focus on surfing with a building-blocks approach tailored to the individual with lots of personal attention from instructors worked great for me.  And there is something to be said for having eight strong supportive women around you.  (More on these lovely ladies in an upcoming post.)
Surf Camp Day 1
After learning enough surfing history to give me an appreciation for not just the sport but the art and spirituality, I learned safety basics and the pop up. And we were immediately in the water at Playa Remanso.
Elsi, one of the first female Nicaraguan surfers, worked with Teresa (the other newbie) and me close to shore where the waves were breaking small.
All I had to focus on was standing up on the board.  Elsi looked for the right wave, told me to prepare, and gave me a push yelling "Pop up!" at the right time.
I popped up on the board my very first try.
I felt like a rock star.
I will re-iterate that these waves were tiny, but I was still thrilled to make progress immediately.
Of course, I did make mistakes with my pop up.  But the great thing was being able to identify them and correct them right away because Noelani, the camp manager and Hawaii native, was watching from the beach.
At the end of the day, Elsi asked if I wanted to try paddling.
I wanted to, but I wasn't sure if I was ready.
Elsi told me of course I was, and she took me out to where the "big girl" waves were breaking.  She still was right by my side the whole time, picked out the right wave, and told me to get ready.
"Paddle!  Paddle!  Harder!"
I did my best to dig deep into the water (this is seriously difficult).  I could feel Elsi give me a push.
"Pop up!"
And I was up.  On a real wave.  And I have the video to prove it.
Chicabrava put together this short video.  It starts with an interview with the fun and energetic Kimberly Dawn.  If you are impatient or just want to quickly see my awesomeness, skip to 1:47 and watch me catch a wave and even ride it down the line like a pro… or maybe a really good amateur.
Surf Camp Day 2
The next morning, we watched video footage that Noelani shot from the beach the day before, which gave us each specific things to work on that day.
At Playa Hermosa, Elsi told me I could go out with the other girls to the lineup.  I was always a nerd in school, so being recognized as a quick study was a boost to my ego.
That didn't last long though.
The second day for me was mainly focused on learning to paddle (both against the current to get out to where the waves were breaking and to catch a wave).  I also discovered that I had a lot more work to do on my pop up because the power of these waves made it more difficult.
It is harder than it looks, but knowing the basics makes it seem POSSIBLE.
I was willing to take a beating from the waves and the current in order to get in one good ride.
Jerson Barboza, a professional photographer from Nicaragua, came along and is the reason I have these great photos to remember my experience learning to surf with CHICABRAVA.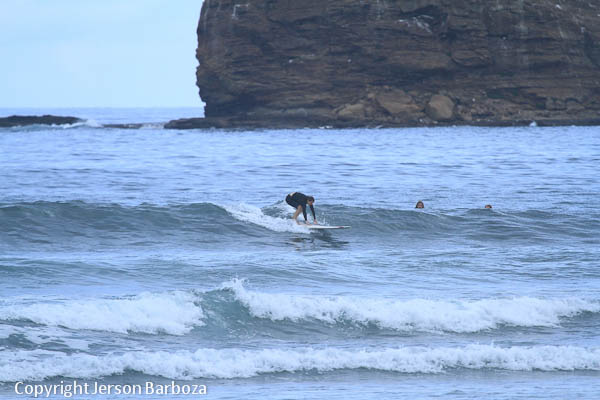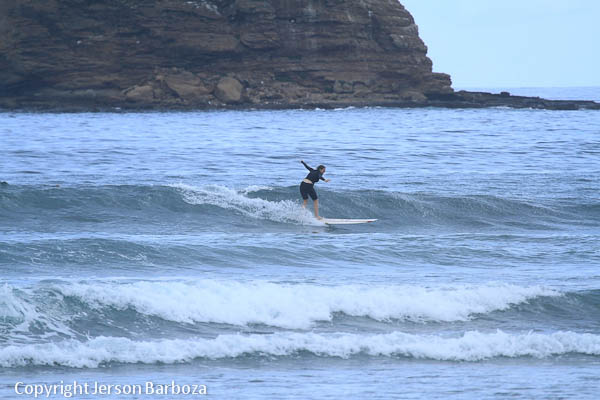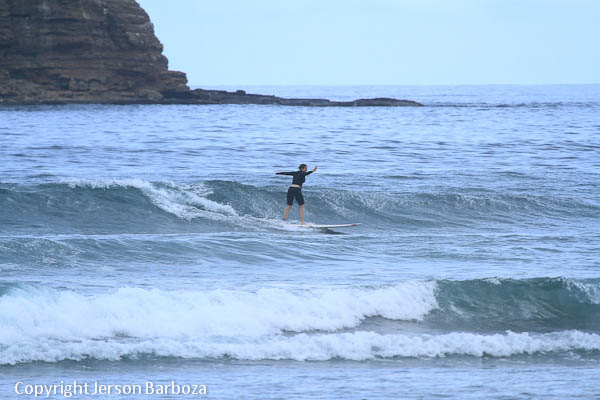 It was a tiring day.  I did a lot of paddling.
I could barely carry my surf board back to the truck.  I had a lot fewer successes than on the first day, but that is because I was being pushed harder.  Overall, I got better, so it was a satisfying day.
Surf Camp Day 3
Our last day was very tranquilo.  We were back at Playa Hermosa, and the winds were better.  I was more confident knowing what I was supposed to do.  I just had to keep practicing and improving on the basics.   Today I worked on moving from a two-step pop up to getting both feet in position in one jump.
I still consider myself an advanced beginner or perhaps a newbie intermediate.
I joked with Elsi that she has to come with me surfing everywhere and give my board a push and yell "Pop up!"
Or maybe I just need to come back to CHICABRAVA and get in more surf time with these awesome instructors.
I want to learn to read waves.  I want to learn the timing for paddling and popping up.  I want to practice with a slightly smaller board and get consistent with my pop up.
The whole way back to the surf camp, I thought about what it would be like to stay and surf here for a month.  I could have easily done that three years ago when I passed through the surf town of San Juan del Sur, but maybe it wasn't the right thing for me at the time. I didn't find surfing then.  But I have found it now.
This year I was a surfer chick for three days.
Maybe I could be a surfer chick for life.
Think you might be a surfer chick?  Read my full review of CHICABRAVA.
Disclosure: I was a guest of CHICABRAVA for a mini-surf camp, however, they did not ask me to write a favorable review.   I really am this stoked on surfing in San Juan del Sur.