There are so many things I love about Amsterdam, and food is near the top of the list.
I look for food tours in every city I visit, honing in on the ones that appear to care a lot about the role food plays in a culture.
I met Zosia at a cute cafe near the Albert Cuyp Market, the largest street market in Holland.
I knew I made the right food tour choice as soon as we met.
Hungry Birds Food Tour
Hungry Birds was founded by Zosia and her friend Esther about 6 months ago.  The business was inspired by Zosia's street food experiences in Vietnam.  When I read their About Page, I was blown away by how similar we feel about travel and food.
The Food
We tried eight different types of street food, and I loved it all.  Every tour is different, as they rotate through a sizable list of quality vendors and are constantly curating that list.
Amsterdam is truly a melting pot. The city has the most nationalities (170) living together in the world.  This leads to a plethora of delicious food options.
Some foods make you feel like you're getting a taste of Dutch tradition.
Biterballen

Biterballen is veal meat stewed with broth and a mixture of herbs, veggies,spices, and flour and then coated in bread crumbs and deep fried. This was perfectly crisp on the outside with a savory filling.
Raw Herring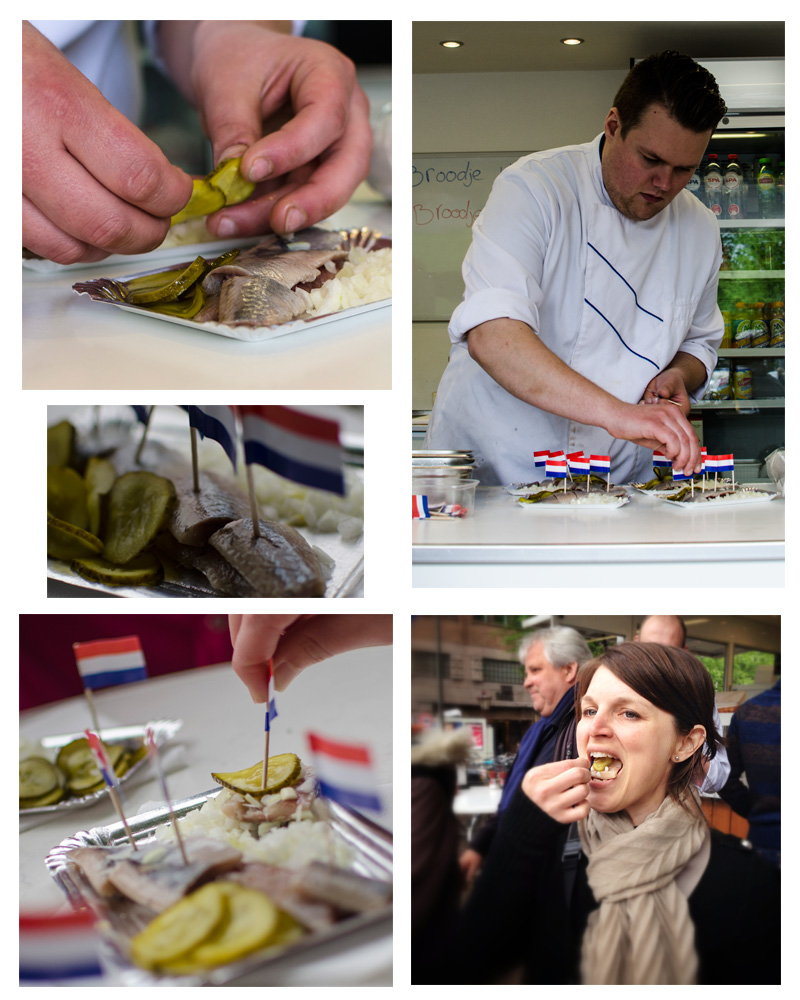 A few people in the group were a little nervous about trying the national Dutch snack. I was most excited about this, and it was delicious. The Amsterdam way involves sliced pickles and onions.
I wish I could eat this every day.
Some foods show the historical influence of Dutch colonization.
Broodjes met Pom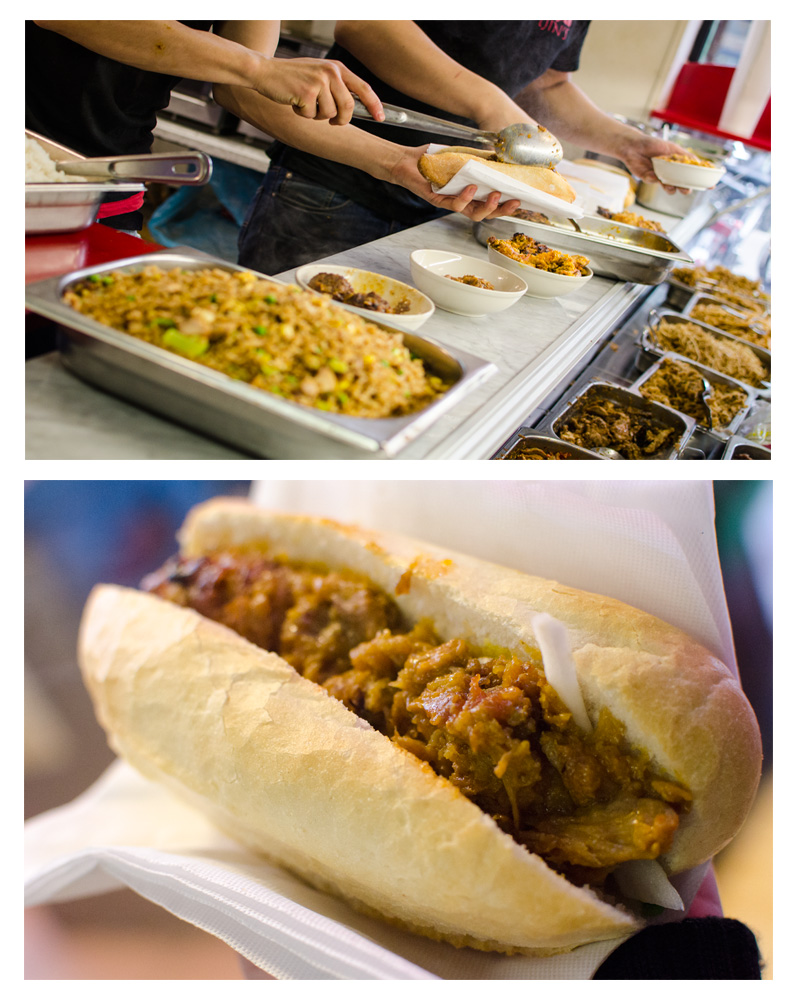 This sandwich from a Surinamese cafe was made with minced chicken, pickled cucumber and cabbage, lime juice, and a veggie similar to sweet potato. So flavorful, unlike anything I've eaten before.
Some fits the recent trend of healthy eating.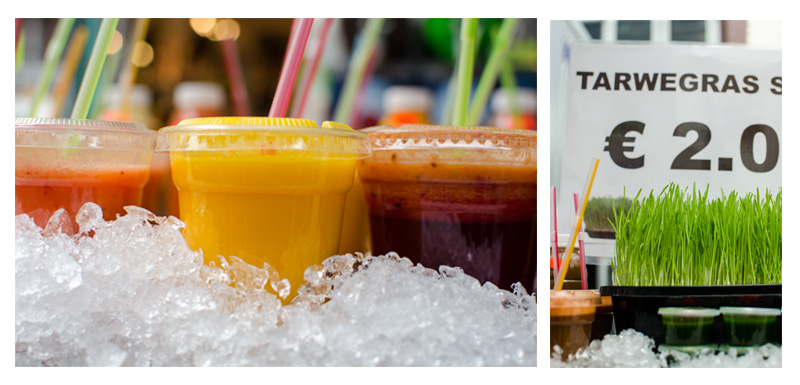 I tried the wortel and gember (carrot and ginger) natural juice.  I skipped the wheat grass shot and was glad I did after seeing the faces of two daring group members.
Some food is straight up junk food, but with a twist.

I didn't want to eat this, but once I tried them I couldn't stop myself. Zosia explained that what makes these fries so good is that the potatoes are fried twice (bonus health points), and the typical Dutch way is to cover them with peanut sauce, mayonnaise, and onions. The peanut sauce is what did it for me.
Beyond the food.
"I want you to feel like you have a friend in Amsterdam."
That is how Zosia started out the tour. And after spending an afternoon with her, I really do feel that way.
It is obvious that she genuinely cares about each and every person that comes on the tour. Zosia knows that the best travel memories come from slowing down to enjoy a moment, getting to know locals and finding hidden places, and sharing stories while eating some tasty food.
Zosia shared the history and cultural significance of each dish we tried as well as what distinguishes great from mediocre.
Meeting the local shop owners was a special part of the experience.
As Dennis made our stroopwafels in front of us, Zosia shared the story about his father who started the family business after going bankrupt and how he got his hands on the secret recipe.
This adorable couple Floris and Anushka were having so much fun working at their cheese stand. Floris describes himself as a cheese casanova.  Hot!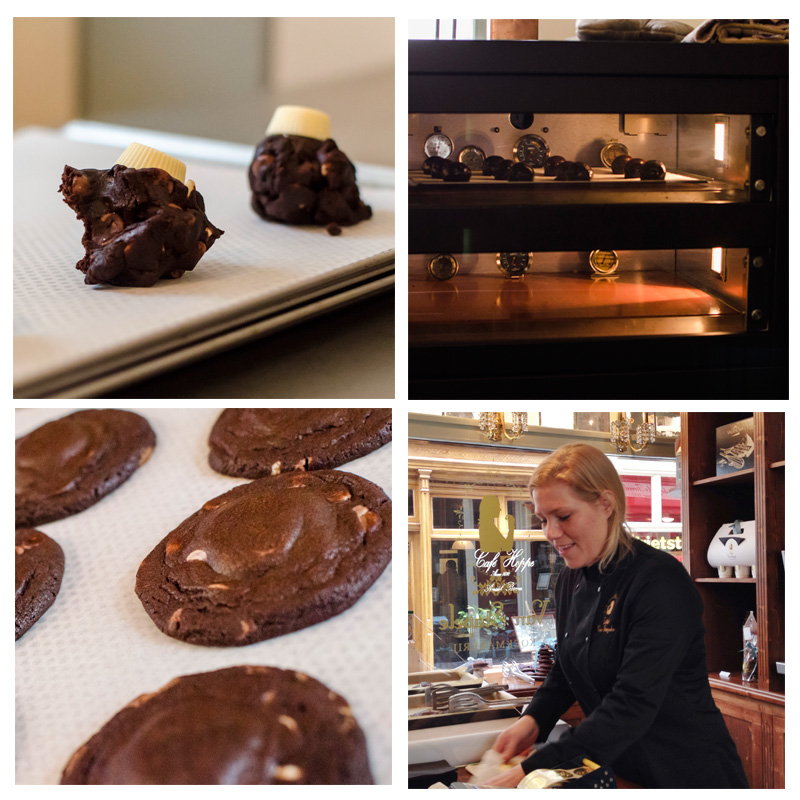 Vera owns Van Stapele and makes the most delicious chocolate cookies I have ever tasted with Valrhona chocolate from France.  Seriously, you MUST go to this cookie shop.
I left the tour pleasantly full and very happy with some wonderful memories…
and a new friend in Amsterdam.
Book a tour!
Hungry Birds has experienced quick success, so try to book at least a couple weeks in advance to secure your spot.  Check out their tasty tour offerings here.
Disclosure:  Although I was a guest of Hungry Birds, that does not influence my opinion that this is the best food tour I have ever experienced.