During my trip to Frankfurt and Amsterdam in 2014, my favorite carry-on suitcase broke. After I got through the initial crisis by channeling my inner MacGyver (long story), I was just disappointed because I knew how hard it would be to find the perfect replacement.
My travel suitcase requirements (I'm picky!)
It must be small enough to carry on for air travel and big enough that I don't need to bring another checked bag. It has to work for my shorter business trips and for my longer international travel. Bragging about always traveling carry-on only was a little misleading, since my old suitcase was pushing the size limit of carry-on. I mainly fly Southwest, and their carry-on allowances are generous. I knew that when I have to travel on other airlines, I would have a smaller requirement.
It must be easy to run with (as in running through an airport on a too-short layover).
It must be expandable so that I can fit more on my way home. While I rarely purchase souvenirs, I wanted a larger option.
I first heard about Skyway from Rease when I was in Puerto Rico last year. After doing some research, I learned that Skyway has a line of Superlight Luggage, including the perfect size expandable carry-on for me.
The test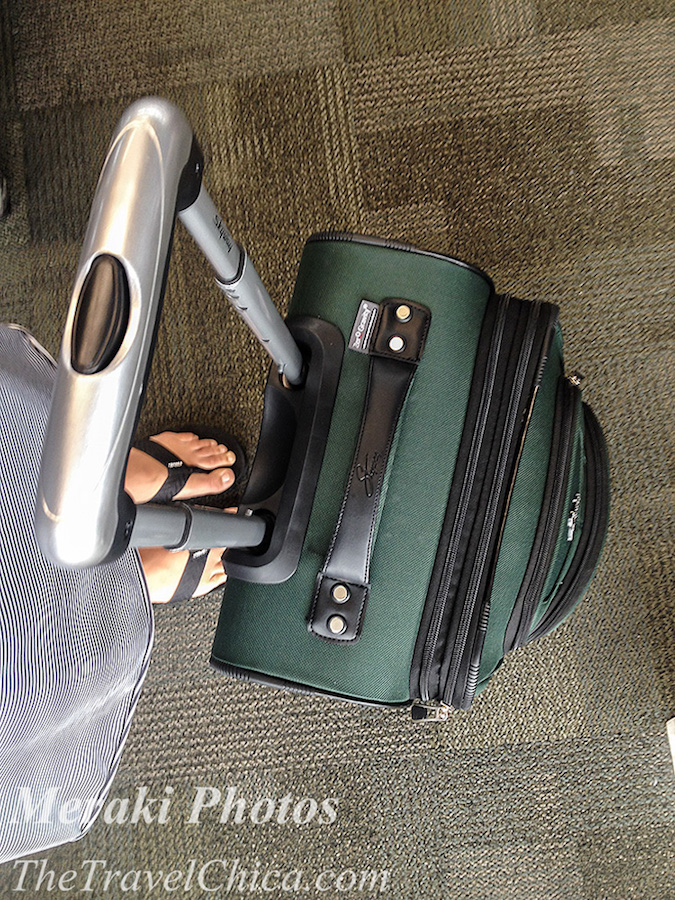 I have used my Skyway Lightweight 20″ 4-Wheeled Expandable Spinner Carry-On for multiple business trips and long weekends. I have used it for an 11-day trip to Costa Rica where I had to pack for the beach, yoga, and hiking in the rainforest.
I feel confident it would also work for me on a two-week trip to Europe.
I have also been pleasantly surprised by just how easy it is to move this thing through an airport (and yes, I did have to run through the San Jose airport). In addition to the light weight (only 5.5 pounds!), the spinner wheels make a huge difference. I like that you can push it in front of you upright on all four wheels.
Because of the light weight, even if I use the expander and pack this thing to near bursting, I will likely not exceed the typical weight limit for checked luggage.
I waited way too long to upgrade to a better suitcase that fits my travel needs and makes those travel days a little easier.
What do you look for in the perfect travel luggage?
[Disclosure: This post contains an affiliate link, which means I make a tiny commission on any purchases you make at no cost to you.  That in no way affects my feelings about the product.  The company did not pay for product placement.]