I absolutely LOVE Argentina.
My first visit was in 2009 for a 2-week vacation, and I knew I would be back.  In late March of 2011, I arrived in Buenos Aires and decided to stay for a bit to rest from my 5 months of being a nomad.
I stayed for 6 months!  
I returned in 2012 for 2 months to write a Buenos Aires City Guide for Indie Travel Media (will be published in the 3rd quarter of 2012).
I spent several weeks traveling in Patagonia, which far exceeded my expectations, and a short amount of time in the northwest of Argentina.
Check out the pages listed below for information on lodging, dining, activities, and transportation based on my experience in 2011 and 2012.
Planning a trip and want to know more about Buenos Aires?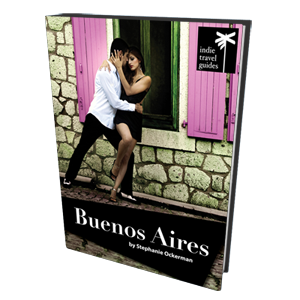 I have been to Buenos Aires four times, spending nearly a year in 2011 and 2012 exploring every inch of the city, learning the history and culture, and enjoying a lot of steak and wine.  Published by Indie Travel Guides, this city guide is crammed full of information and suggestions, including copious itineraries and experiences to suit your budget – whether low, mid-range, or upmarket.
Use this guide to create a unique experience and enjoy the best of Buenos Aires!  Maybe you'll fall in love with the city too.