Buenos Aires is an incredible city.  You will find impressive architecture, fine dining, world-renowned nightlife, and a big emphasis on art and music of all forms.  At the same time, it is a city with problems.  Enjoy the best of the city, and understand that it is not a glossy Paris as some make it out to be.
I lived in Buenos Aires for 8 months in 2011 and 2012, and I want to share what I know to make your experience there great.  Throughout this page, you will find links to posts I have written about some topics if you want to get more details.   Even though I lived there, these tips are written from the perspective of a traveler staying 1-2 weeks, but this is different than what you will find in a guide book.  Some of these places are not frequented by tourists or travelers.
In addition, there are lots of creative tourism companies that can give you a perspective on the city you could never get on your own.
If you would like more information about my experience living there, please send me an email.
If you are a picture person, check out my Buenos Aires photo albums.
Top 6 Experiences in Buenos Aires
There are so many things to do in Buenos Aires, and there are a few experiences I ALWAYS recommend checking out whenever I am asked for travel tips.  So I figured i would feature those here, and you can read more details below for other great things to do in Buenos Aires.
If you check any of these out while you are in BA, please tell them I referred you.  I like to support people doing great things in BA.
Wine Tasting with Anuva Wines

This fun, casual wine tasting features 5 boutique wines that are hard to find on your own.  I have been to many wine tastings during my time in Argentina, and I think this one is best for a trip to Buenos Aires because you will learn a lot, the setting is great, the wines are top notch, and they offer shipping services to the US.  Book your tasting here.

LandingPadBA

This tour company offers a good mix of off-the-beaten-path and mainstream tours.  I highly recommend the following unique experiences in BA:

– The Man Tour
– La Boca, Beyond El Caminito
– The Woman Tour coming soon!

This is also a reputable company for tours to Boca Juniors, River Plate, and Independiente football games.

They also have a lot of great (often humorous) articles about navigating the city and understanding the culture.

Biking Buenos Aires

I love to explore a city on bike, and Biking Buenos Aires offers some of the best itineraries to see a mixture of the main tourist sites plus some locals' favorites.  Very professional, excellent guides, and good equipment.

Graffitimundo

Buenos Aires is one of the most exciting cities in the world for street art.  Graffitimundo will take you to works in hidden spots you would never find on your own, as well as share the stories behind the artists and their work.  If graffiti art interests you at all, you will love the tours offered by Graffitimundo.

San Telmo Art Walk

You will see graffiti art, contemporary art, and learn about the history of San Telmo expat art expert Rick.

The tour takes you through some of the sketchier parts of the barrio that you would not want to roam around on your own. Book your tour here.

Argentine Asado

You will experience an authentic asado of the highest quality while learning all about the food and the traditions.  While the steak and wine is fantastic, there is more to it than that!
General
Safety
This is always a difficult topic.  Generally, the city is safe, but things seem to have been getting worse as the economy worsens.  Buenos Aires is a REALLY big city, and just like every other big city, there is crime.  You need to be smart about what parts of the city you go to and take care of your belongings.  Always ask at your hostel or hotel about the areas to avoid.Here are a few simple things I recommend:
Always be aware of pickpockets on the subway or crowded buses.  Do not keep valuables, including your phone, in open pockets.  Personally, I always carried my money in my bra.
Do not flash around expensive things such as an iPhone when you're on public transportation or out on the street.  Be discreet.
Money Matters
Argentina is experiencing bad inflation, about 25% each of the last few years.  Be aware of this whenever you are using information to plan your budget.
For some reason, stores are real A-holes about giving you change.  And the ATMs will only give you 100s.  So try to hoard your smaller bills and monedas (coins).  Buses only take monedas.  You can also go into most banks and exchange your 100s for smaller bills.
Taxi drivers and even some bars like to give you fake 100s.  Do a little research to know how to tell the different. Although I never experienced it, I met plenty of others who did.
Be aware of the exchange rate.  It is fluctuating quite a bit as I write this at the end of 2011 (in favor of the US dollar), and you do not want to get a bad rate because you are not aware.  Ask your hostel or hotel for a good cava, a not-so-official money-changing place that will usually give you a better rate than a bank or official cambio.
Traveling Cheap
Buenos Aires is not a cheap city, but it can be done on a small budget if you make most of your own meals, buy your groceries at the right places, use public transportation, and take advantage of the many free activities.  Check out my top tips for traveling cheap in Buenos Aires.
Where To Stay
I found that the hostels are kind of crappy in Buenos Aires.  The kitchens are usually gross and terribly equipped.  They will put bunk beds 3 and 4 high in huge dormitories to fit in as many people as possible.  I changed hostels 3 times my first 1 week in the city.  Always take a tour of a hostel before committing to it. 
I chose to live in Palermo.  There are only two hostels I can recommend that I feel have decent kitchens, bathrooms, common areas, and dorms.
Giramondo – I lived here for several weeks while I looked for an apartment.  They were one of the cheapest hostels with the best breakfast (including eggs!), a convenient location, and I really liked the staff.
Eco Pampa Hostel Palermo – I did not stay at this hostel because it was a little out of my budget, but it was very nice with a good breakfast, good location, and good facilities
I have also toured/ reviewed hotels of all price ranges and many barrios for the Buenos Aires City Guide.  Until that is published, feel free to email me if you'd like a suggestion..
Favorite Restaurants, Cafes, and Bars
The eating habits of Porteños are very different from the rest of Latin America (at least as much of it as I have traveled).  The diet and the meal times are very different, and you can read about it here.
Cheap and Fast
If you are looking for "typical" food that is cheap and fast, empanadas and pizza are the way to go.  It may not be healthy, but this is what people eat.  I suggest the following:
El Cuartito – Famous for their pizza and empanadas.  I suggest the fugazzetta pizza and the Roquefort empanadas.
Kentucky Pizza – Known for pizza and empanadas and cheap lunch specials that include a ginormous cup of wine.  This is a chain, so you can find in most barrios.
Fine Dining Behind Closed Doors
One of the big trends in Buenos Aires is puertas cerradas (closed door restaurants). These are restaurants inside someone's home, usually open only Thursday through Saturday nights.  They have a set menu that changes every week and you have to make reservations in advance.  My two favorites are:
Cristina Sunae – Creative Southeast Asian cuisine and the best value puerta cerrada.  Also, if you are looking for "real" spicy food, this is the place to go.
Casa Felix – A little pricey, but an excellent pescetarian meal.  Creative dishes with LOTS of vegetables.
Good Restaurants (including steak!)
These are my favorites (in order of cheapest to most expensive):
La Mamma Rosa – This is the best Italian food I had in Buenos Aires, and the prices are affordable.  Even though Porteños claim to have incredible pasta, I have usually found that the sauces are disgustingly bland.  La Mamma Rosa gets it right.  The noquis, cannellones, and raviolis are excellent, and both the salsa blanca and salsa mamma rosa are delicious.  Also, try the tiramisu for dessert.  Located in Villa Crespo (very close to Palermo) at Jufre and Julian Alvarez.
Siga La Vaca – This is an all-you-can-eat parrilla.  And a bottle of wine (per person) comes with the meal.  A really fun experience to go with a group of friends.
La Cabrera  – The best steak I have ever had.  Located in Palermo Soho.  This should be your steak splurge in Buenos Aires.
Lo de Jesus – Although it doesn't have the flair of La Cabrera, the steak is just as good, and you won't have to wait hours for a table.  It's just a few blocks from La Cabrera.
Sarkis – Locals, expats, and travelers love this Armenian restaurant.  Portions are huge, and the food is fantastic and quite authentic (although very salty).  Located on Thames, one block west of Cordoba in Villa Crespo.
Best Breakfast, Brunch, Cafe Atmosphere
Café culture is huge in Buenos Aires.  Because I was on a budget, I did not frequent them (coffee is expensive here), but if I did want to treat myself, these were my go-to places.
Malvón – They have delicious fresh-baked bread, muffins, and cakes.  Their weekend brunch is wonderful and you gets tons of food for the price.  Located in Villa Crespo.
Cafe Crespin – This was the best American-style breakfast I had in Buenos Aires with perfect scrambled eggs and delicious French toast with real syrup.  I have been told the weekend brunch is great too.
Best Cheap Coffee To Go

If you just want a good cheap coffee, your best option is to go to McDonald's.  Seriously.  Pass the McCafe and go straight to the regular counter.  Order a cortado.  This is almost half the price of a coffee at a café and twice the size and comes in a to-go cup (still a novelty in Buenos Aires).  If you want to hang out, almost all have wi-fi and large dining areas.
Bars
I'm not into boliches, so you will not get any recommendations from me.  If you are looking for a cool bar to have drinks, here are my picks:
Post Bar – Very laid-back bar with incredible graffiti all over the walls and the rooftop terrace.  Also, the only place I have seen a dart board in South America.  Located in Palermo Soho.
Magdalena's Party – A little nicer.  My place to go for happy hour wine specials.  Located in Palermo Soho.
Buena Birra Social Club – This is actually a puerta cerrada, so you need to make reservations.  They make their own excellent beer, and it's a laid-back place to hang out with friends.  Located in Colegiales (not too far from Palermo).
Cava Jufre – A locals wine bar.  They have an excellent selection and wide range of prices.  Take a bottle home with you, or enjoy it there for a small descorche fee.  The owner is wonderful and will help you pick out wine.  They also do tablas (cheese and meats plate to share) which are excellent and tasty Greek-style empanadas.  Located in Villa Crespo at the corner of Jufre and Julian Alvarez.
Ice Cream
Ice cream is so much a part of the food culture in Buenos Aires, that it gets a whole paragraph.  I wrote a whole post about the best ice cream in the world.  After I wrote this post, I was introduced to a place called Viekko in Las Cañitas, which is now my favorite.
Favorite Activities
I lived in Buenos Aires for 6 months, and I discovered that there are always things going on.  Here are my top resources for finding out about the many free or cheap events in the city.
Agenda Cultural – A government website that lists tons of up-to-date information on festivals, art performances, exhibits, and more.  Most of these events are free.
La Rural Exhibition Center – Located at Plaza Italia, there are many events and exhibitions here.  I went to wine expos, food expos, book fairs, art exhibits, and more.  Some events are free and some have a small entry fee.
Inside Buenos Aires – This blog run by the Fierro Hotel has a lot of great information on what is going on in the city.
Even though I lived in Buenos Aires for so long, there are still things I did not see and activities I did not do.  It is hard to cram it all into a week or two.  So here is my opinion for the must-sees and must-dos.
The Freebies
Take a tour with Buenos Aires Locals Tours.  Okay, so this is not quite free because you should tip.  But this is an excellent way to get introduced to the city and learn how the subte (subway) and bus systems work, which will save you lots of money on taxis the rest of your stay.
Walk through the Recoleta Cemetery and then pop over to the Recoleta Cultural Center next door.  The exhibits at the Recoleta Cultural Center change frequently, and I have always been impressed with the works.
Walk over to the Bosques de Palermo on a weekend afternoon.  The best comparison I can make is New York's Central Park.  El Rosedal is a beautiful rose garden.  Check out the Museo de las Artes Plasticas, which is just off the walking/ cycling path around the lake.  Great modern art work and really nice café.
The last Friday of every month is Gallery Night.  This is a free event, and you will see lots of great artwork.  A must-do if you are in the city during this event.
Worth the Price
Depending on your interests, these activities are well worth their price.
Art & Culture
Use this website to check out the main museums and find out entry costs and hours.  There are often days when entry is free or reduced.  Museo Nacional de Bellas Artes is my favorite.
Use this website to find a great listing of art galleries by neighborhood.
Food, Wine, Meeting People
Wine Tasting at 0800 Vinos – Held almost weekly on Thursdays or Fridays, this is a great place to meet expats and try some good wines.
Cooking Classes – I went to two, and they were both excellent.  Buenos Aires Cooking Classes is located in Belgrano.  Cooking with Teresita will get you a bit out of the main city (but still easy to get there) to the pleasant suburb of Adrogue.
Buenos Aires Pub Quiz is once a month.
History & Architecture
Teatro Colon Tour – The opera house is considered one of the best in the world.  It recently re-opened after years of renovations.  Very impressive.
If you want to learn a lot about the city and see a lot of cool stuff in a short period of time, it is worth taking a custom, private tour, especially if you only have a short time in the city.
Dance
La Viruta – A great place to take group dance lessons in salsa, tango, and more.  For one small entry fee, you can take all classes offered that evening and stay for the tango 'open dance' or tango 'show'.  In my opinion, you do not need to pay for the over-priced touristy tango shows.  You will be impressed by the Portenos you see dancing late-night at La Viruta.  Check out their website for a schedule.
I also heard great things about La Catedral, and Tuesday is the best night to go.
Planning a trip and want to know more about Buenos Aires?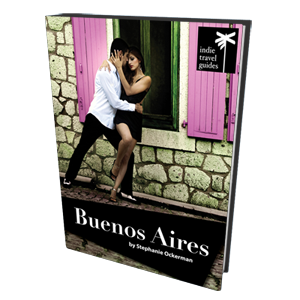 I have been to Buenos Aires four times, spending nearly a year in 2011 and 2012 exploring every inch of the city, learning the history and culture, and enjoying a lot of steak and wine.  Published by Indie Travel Guides, this city guide is crammed full of information and suggestions, including copious itineraries and experiences to suit your budget – whether low, mid-range, or upmarket.
Use this guide to create a unique experience and enjoy the best of Buenos Aires!  Maybe you'll fall in love with the city too.