I have had many homes in Buenos Aires.  Some good.  Some bad.
I lived in a hostel so long (6 weeks) that it earned the label of home.  (There were actually 2 other hostels before that, but I couldn't take more than a few days in each.)  I had the misfortune of renting a room from the Cruella de Vil of Palermo.  But then I had the pleasure of living with another solo female traveler.  Now I have a new home about 11 blocks from my previous home.
There are some oddities associated with my new living situation.
It took me a solid week to figure out how to turn the keys just right to actually exit the house.  My new home is also the stomping grounds of about 10 or so stray cats that make all sorts of crazy noises day and night.  My room is a separate small structure, one might call it a shed, separate from the main house.  This makes for rather chilly trips to the bathroom when I have to pee in the middle of the night.
But I love my new home!
Frisky Kitties
The cats must all be in heat right now.  I hear constant "moaning."
Some of these cats like to fight as well.  Often when I am trying to fall asleep, I hear vicious fighting just outside my window.  I am afraid to look out the window because I don't want to see cat guts flying through the air.
The cats also like to scare the crap out of me by jumping on the roof of my room.  It sounds like a massive object is going to come crashing through the roof on top of me.  I envision it is the plump "queen" of the cat tribe who never makes an appearance before humans and travels around the neighborhood by walking along the tall concrete walls and hopping along the roofs.
Cold Times
My room is cold even though I have a space heater because one wall is a giant window.  On the coldest nights, I have even had to use my sleeping bag under the blankets.  Yes, people.  It has hit freezing here recently.
When I am awoken at 4am by my near-bursting bladder from all the water I have to drink to not dehydrate with the space heater in my room, I have to put on layers of clothes and shoes to go out into the freezing air and enter the main house to use the bathroom.
So why do I love my new home?
There are three reasons.
I have awesome roommates.
I have my own room with lots of privacy.
And the house has huge common areas for cooking and entertaining.
My Roommates
I live with two smart, funny ladies from Australia and Minnesota.  In addition to good laughs and discussing the idiosyncrasies of the English language (Aussies say "on heat" not "in heat" as I learned when we were discussing the cats), we have in-depth conversations about the places we have traveled and what we want to be when we grow up.
My Own Room
When I lived with Ayngelina, we shared a bedroom.  We had no problems with this arrangement and were both very compatible roommates and thrilled to be out of the hostels.  But having my own room is pretty special.  Since my room is actually separate from the house, I have even more privacy and do not even hear my other housemates (unless you count the cats).
That's my shed on the right and the main house on the left.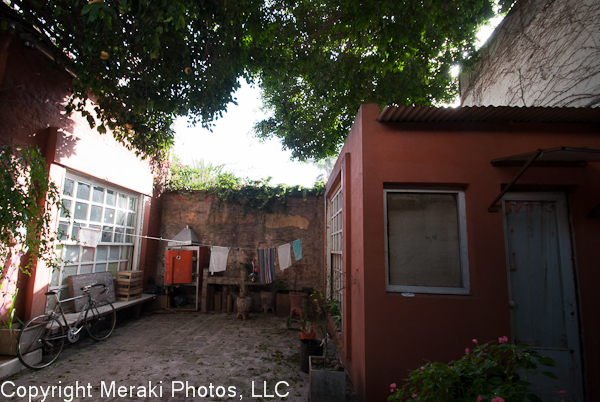 My House
The house is very open and spacious.  For my birthday, I invited over some friends and cooked caprese empanadas, and we had a great time.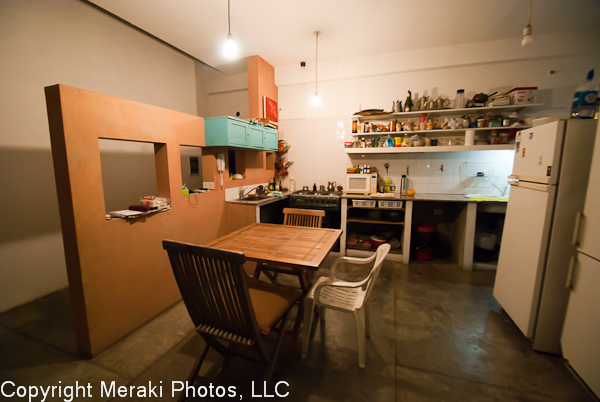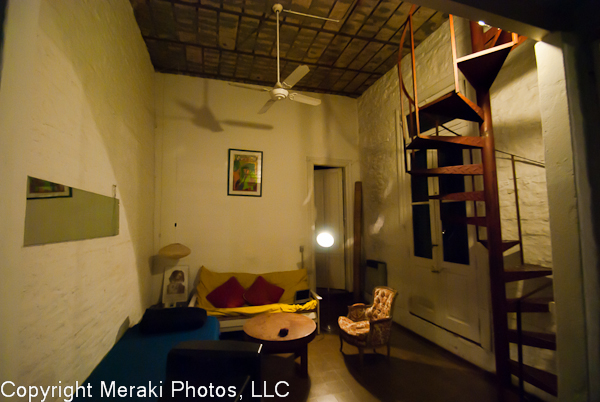 I just have to stay out of the cat's way.