Twitter, the kindness of strangers, and passion for food led me to one of the my most memorable travel experiences ever.
With no time to plan, I sent an abrupt "Does anyone know anyone in Bangalore" tweet to my followers.  Karthik responded and emailed me the names of a couple of contacts who happen to be foodies.  I sent an email, and we found an evening that worked for dinner.
I know very little about Indian food.
In fact I have been hesitant to try it because menus seem overwhelming.  I have no idea what any of the dishes actually contain or how they are prepared.  And let's be honest.  I'm a total wuss when it comes to spicy food.
But on this trip to Bengaluru, I decided I will try anything and everything.
I have to know why people love Indian cuisine so much.
Eat Street (aka VV Puram)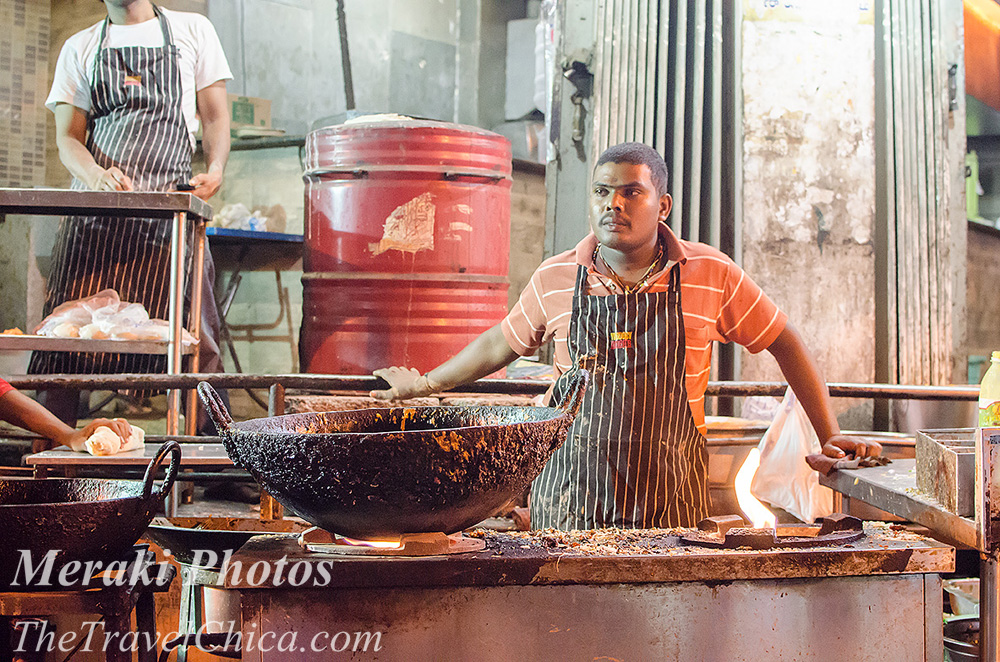 Simi runs The Oota Walks food tours in Bengaluru.  A tour date did not align with my trip, and Simi was leaving for her own foodie trip exploring Vietnam.  But she generously offered to meet up with me for dinner the night before she left town.
Little did I know, I was about to have the ultimate condensed food tour.
VV Puram is known as "Eat Street."  Simi's friend and The Oota Walks business partner Shibaji came along to show me and Erwin, a new friend from my training class, an amazing food experience.
While Erwin and I stuffed our faces, Simi explained the ingredients and cultural significance of a dish, and Shibaji was off getting our next plate ready.  We ate so many things, I'm not even including them all in this post!
Honey Cake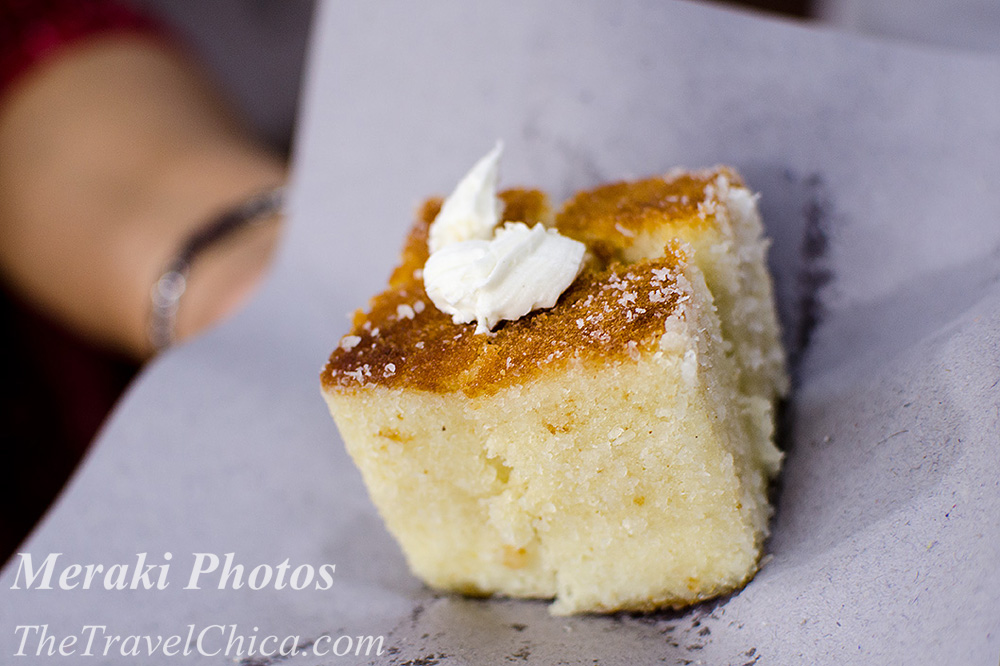 I would eat this for dessert after every meal if I could.
The taste of fresh coconut and the slight sweetness is perfection.
Jack Fruit

Unlike the varieties of jack fruit found in other parts of Asia, this does NOT have the horrible smell.  In fact this may be tied for tastiness with my favorite fruit which goes by the name of chirimoya in South America and sweet sap in Jamaica.  This jack fruit is a little sweet and a little sour.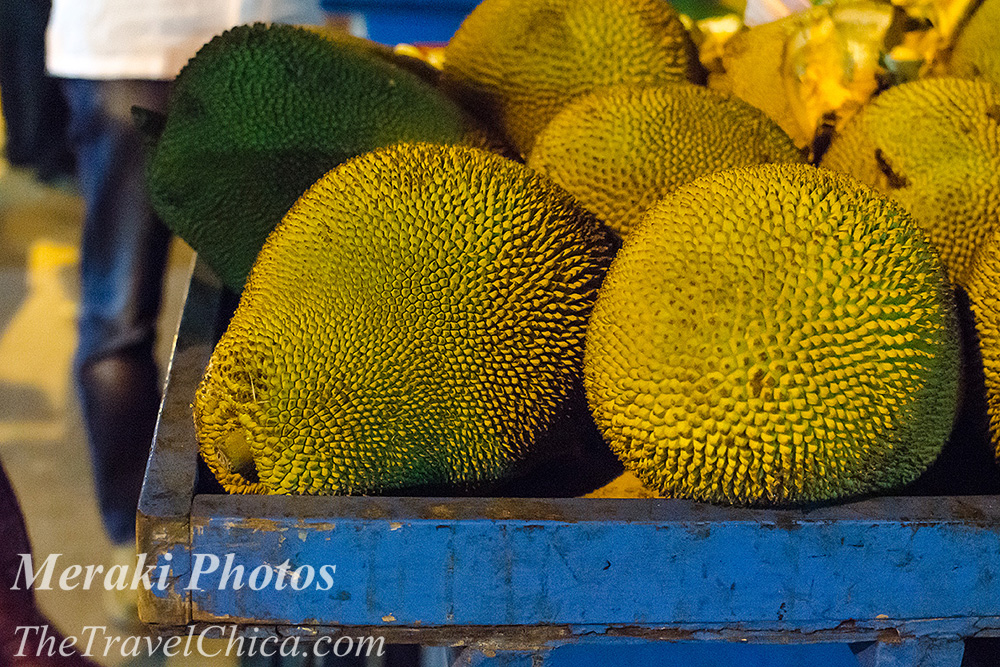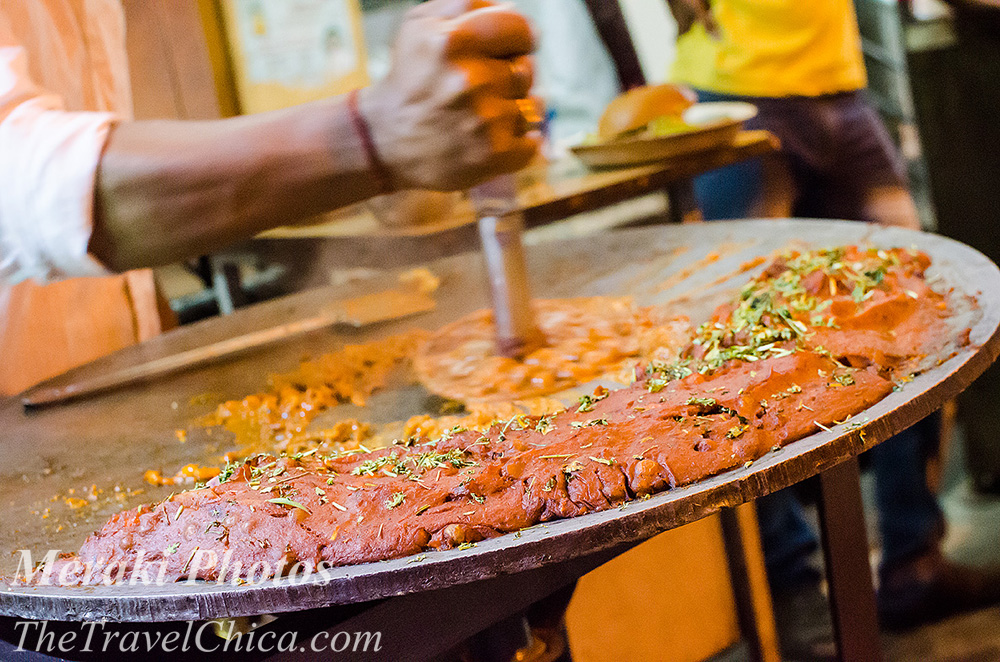 Watching many of the dishes be prepared was just as fun as eating them.  Pav Bhaji is a mixture of mashed vegetables with curry garnished with lemon and onion.  You scoop out the tasty vegetarian fare with pieces of the buttered roll.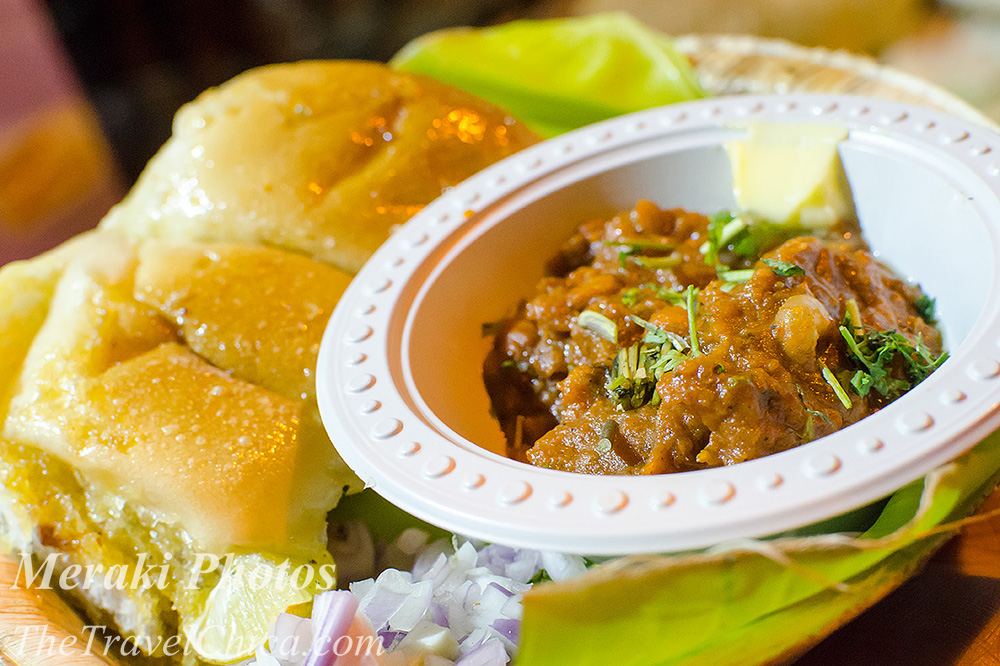 Chaat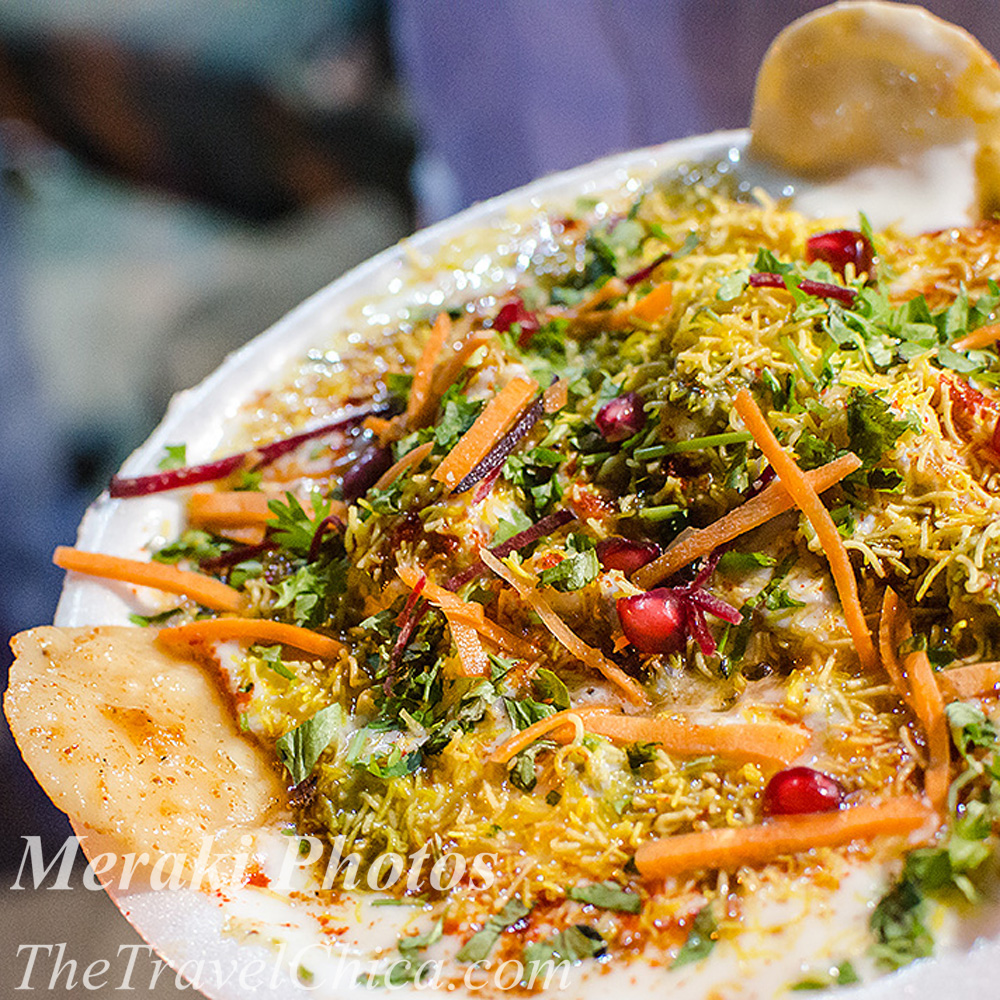 Isn't this dish beautiful?  So many colors and textures, and then of course, all of the flavors.  Chaat is a term to describe a savory snack typically eaten in the evening at a street vendor.  There are many varieties, and we had papad churi and aloo tikki.
Idli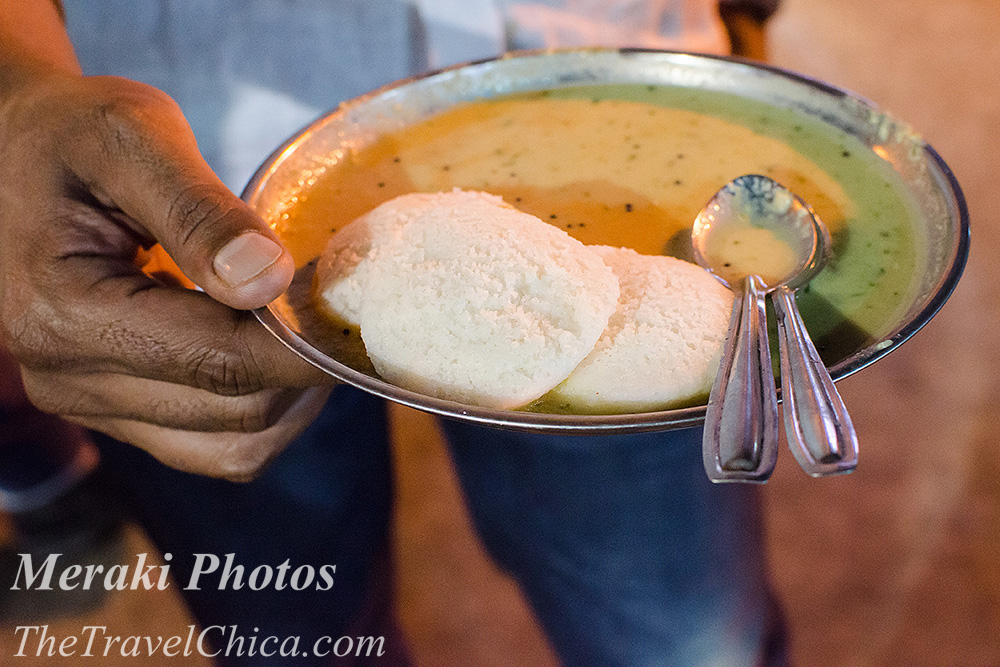 This dish is eaten by many South Indian families for breakfast most days of the week because the fermented rice patty can be prepared in advance and then steamed when ready to eat.  Idli is often paired with coconut chutney or lentil soup.
Dosa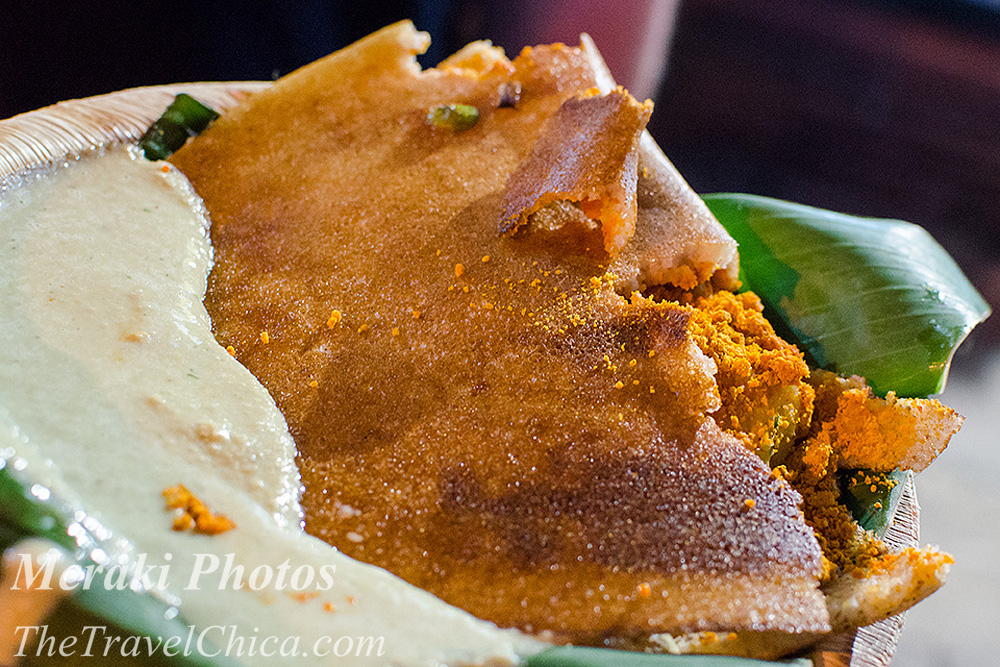 Before this trip, I was one of the few people in the world who doesn't know what a dosa is.  Well, that has now been rectified.
I'm not sure how the Eat Street version compares to the famous dosa houses in Bangalore, but this one was so amazing that I decided to let it be my only dosa experience in India.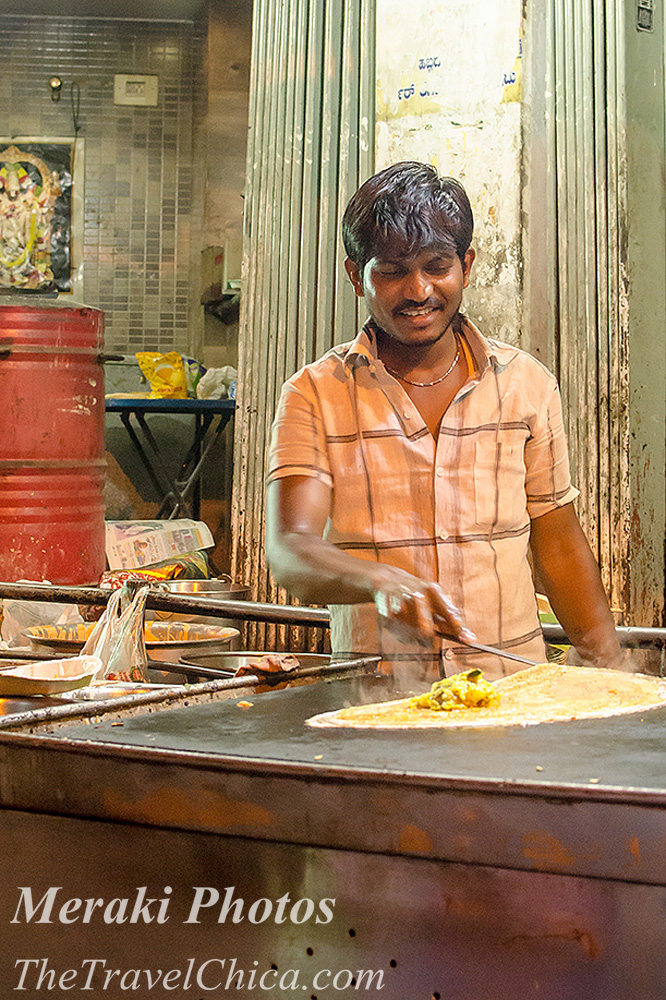 Hot bele obattu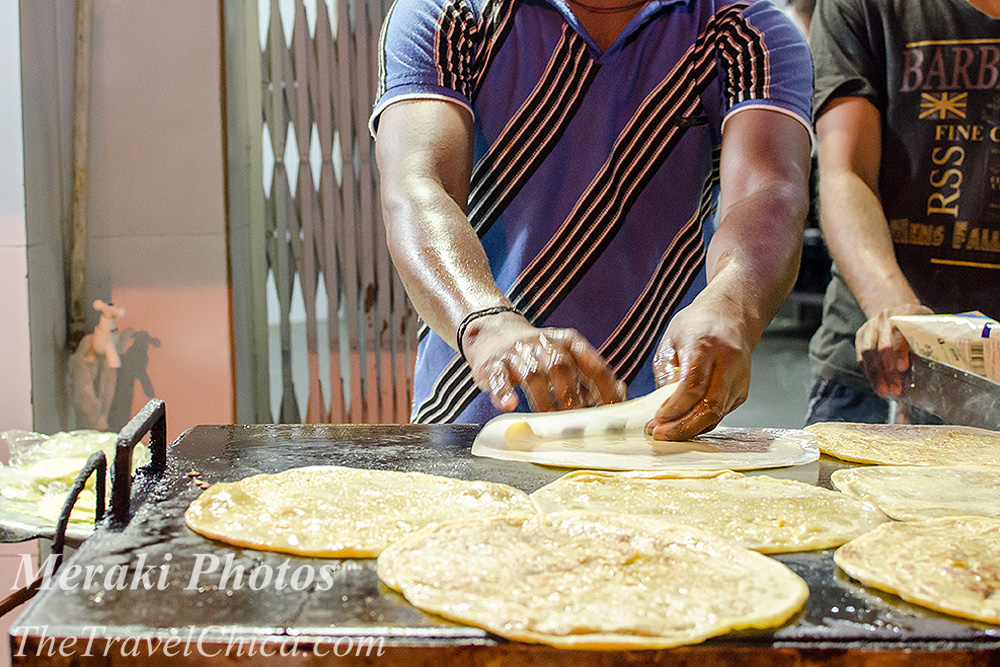 What you see glistening off the cook's hands is ghee, a type of clarified butter used in India.  It was fun to watch these thin crepes get slathered in butter, flipped on the grill, and freshly served.  Careful, it's hot!
Take a food tour in Bangalore!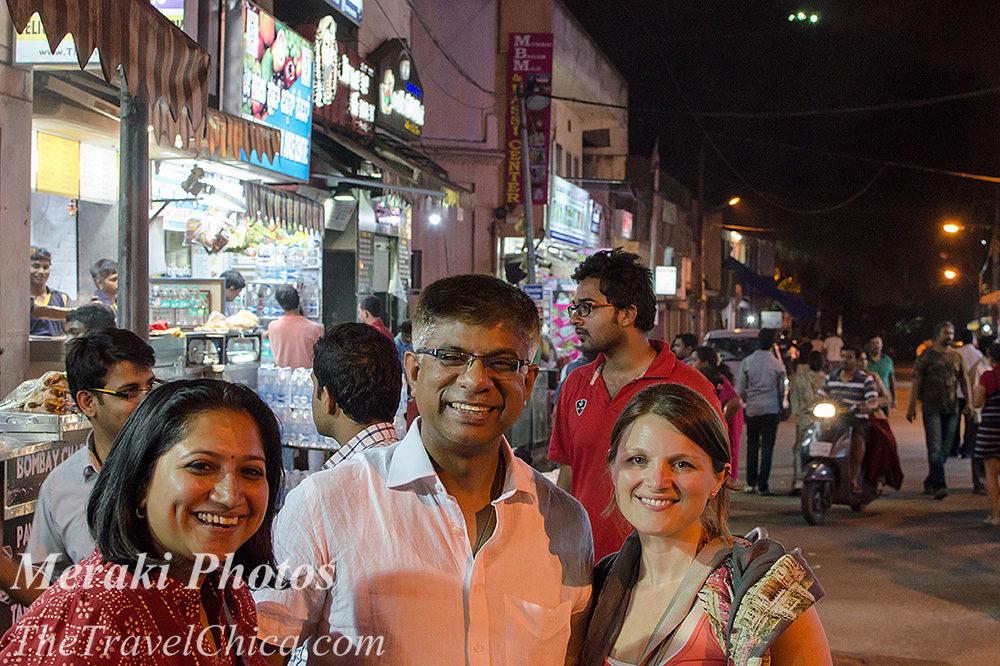 If you are like me in your desire to explore a new place or a new culture through food, a food tour with locals is a MUST in Bengaluru.  While I did not take an official tour, my time with Simi and Shibaji was enough to see their pure passion for food and sharing their knowledge and culture with others.  Tours are typically only available on the weekends, so be sure to contact Simi and Shibaji in advance at The Oota Walks.
You can visit Eat Street on your own as the area felt safe, and you can take an Uber or taxi to get there.  However, the experience is augmented being with locals who know which vendors serve the best version of each dish.  It starts pretty late in the evening (after 8pm).
And don't be surprised when a cow walks down the street.  Just move out of its way.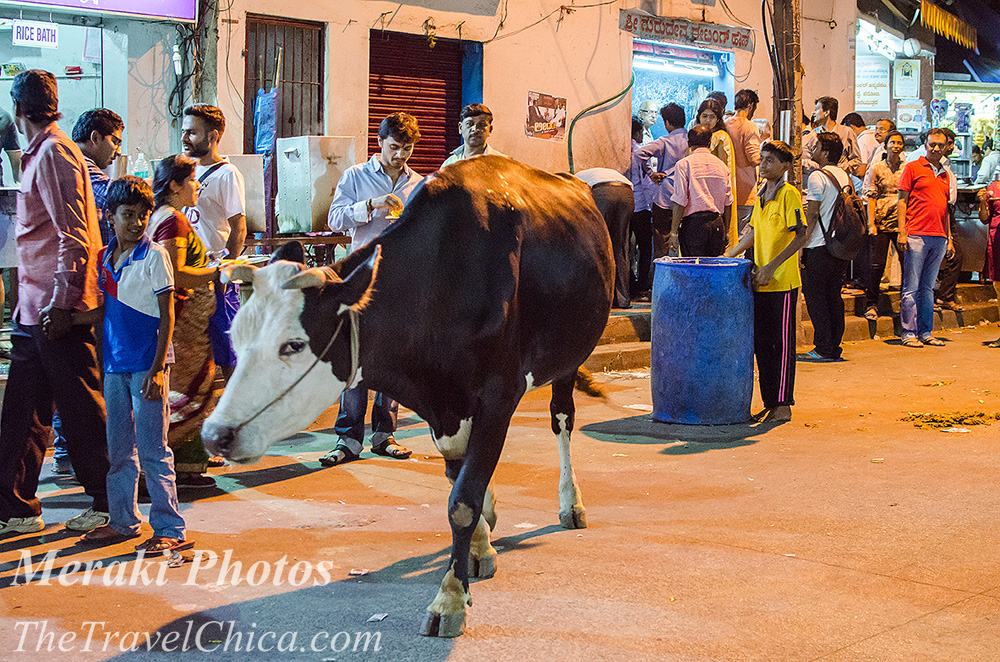 Have you had an amazing food experience in India?  Do share!