This is a pretty big claim.
No, I have not been everywhere in the world, but I cannot imagine it gets any better than Buenos Aires.  I had sampled a few ice creams at various small shops in the Palermo neighborhood.  It was all delicious.
Then I was told which places are considered to be the best ice cream companies in the city.
I had to find out for myself.
Persicco
I had not eaten ice cream at Persicco before because their prices seemed completely ridiculous.  In fact, all of the ice cream in Buenos Aires is expensive, but Persicco is much higher.  I figured it was worth it to try it once and find out if it really is any better.
It is better, and it is worth it.
At Persicco, watching them make an ice cream cone is like watching an artist make a sculpture.  The cone has to be perfect.
MY ICE CREAM ARTIST CONCENTRATING ON THE ORDER AHEAD OF ME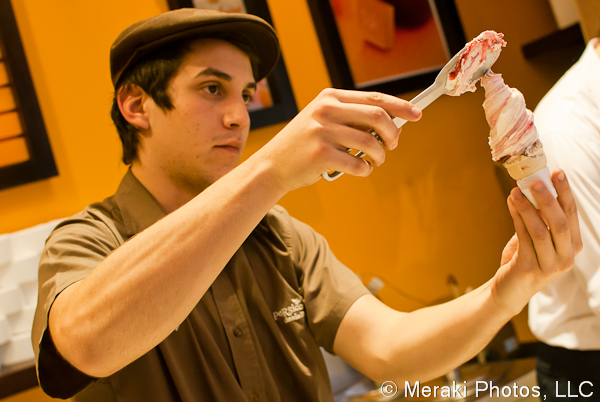 This is the "boat."
For 24 pesos (US$6.00), you can choose multiple flavors and any toppings you want.  This boat is filled with a scoop of chocolate amargo and arándanos and topped with raspberry syrup, almonds, and chocolate-covered cookie.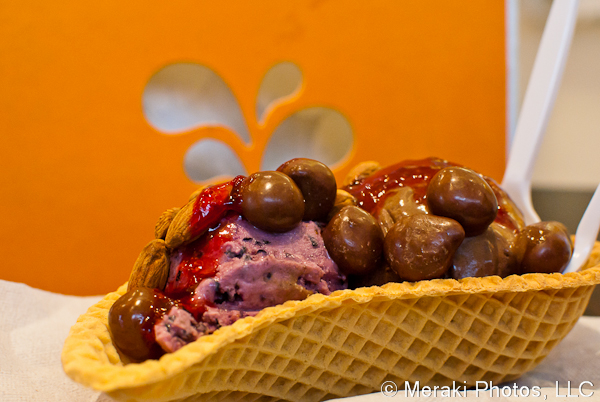 Favorite Flavors:
Chocolate Amargo (dark chocolate)
Raspberry Sorbet
Arándanos (blueberry)
There was also a seasonal flavor I tried that was incredible.  I do not remember the name, but it was a creamy vanilla ice cream with ribbons of raspberry mixed throughout.  Yum!
Volta
My trip to Volta happened after a steak dinner and lots of cheap wine… at 1 o'clock in the morning.  Yep, that's right.  The ice cream shops in Buenos Aires are open really late to accommodate the Porteno lifestyle.  There were even families with their children at Volta at this hour.
Chance had to persuade me because I was already stuffed, and 1am is my bedtime.
So far Chance has not steered me wrong with food recommendations, so we went and split 1/4 of a kilo of ice cream.  This meant we got to choose 3 flavors:  chocolate amargo (my favorite in any ice cream shop), raspberry sorbet, and one of the 20 flavors of dulce de leche.
One thing that cracks me up about every ice cream shop is that they have a whole section of different flavors of dulce de leche ice cream. I didn't know there could be so many.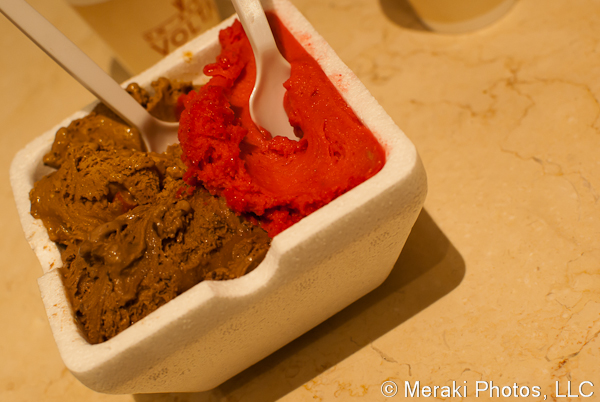 I quickly forgot how much I had just eaten at dinner and the fact that it was 1am.
Members of the clean plate club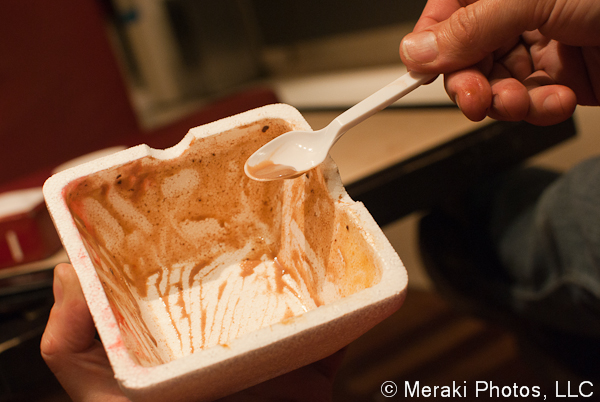 Ice Cream Delivery?  Why not?
The Porteños' love of ice cream is so great that you can even get ice cream delivered to your front door.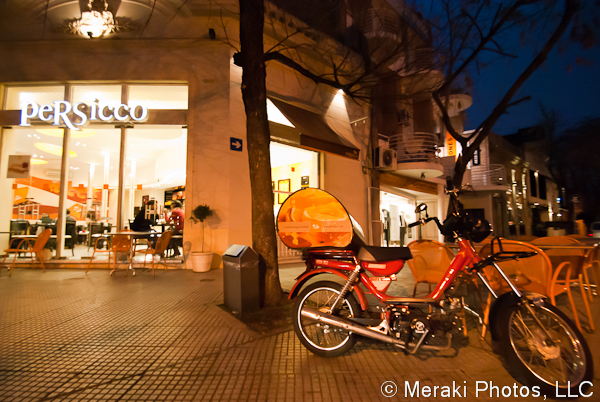 Or you can go pick up a couple of kilos to keep at home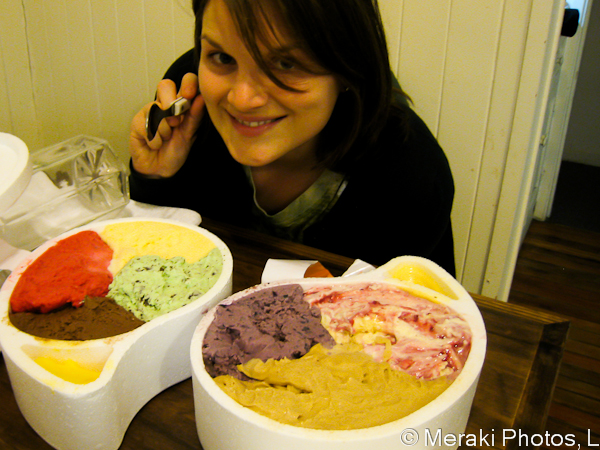 If you live in Buenos Aires or are just passing through, you must try the higher-end ice cream at least once. I have heard Freddo and Chungo are also really great.  But I really do not want to have to start wearing elastic-waistband pants, so I'm going to take a break from sampling the ice cream for a bit.
Like I said before, ALL of the ice cream I have had in Buenos Aires is really good.
However, at Persicco and Volta, it is orgasmic.
Have you tried the ice cream in Buenos Aires?  Do you think it is the best in the world?