My co-worker Stacy asked me when I first left for this trip what I chose to keep and how I made those decisions.  I told her I would write about it soon, but then I was more interested in writing about my experiences in Latin America… like hiking a volcano.
The first week in Columbus, I went to my storage unit to retrieve a few things.  And then when I was preparing to leave again, I had to go to the storage unit again to drop things off.  I decided it was now time to write this post.
My possessions fit into a 5'x5' storage unit.
And I am proud to say it is not even half full.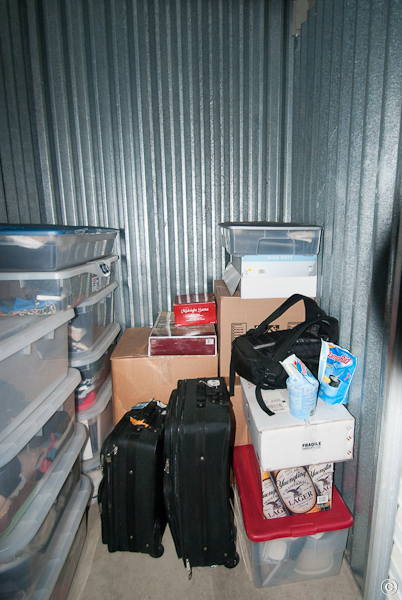 I was never a hoarder.  I really did not think I had that much stuff. 
After all, my condo was only 930 square feet, and not every closet nor every cabinet was full.  Yet it was still very difficult to purge when I made the decision to travel for a year.  In fact, it was probably one of the most stressful experiences of my life.
However, choosing what to keep was never the stressful part.  The stressful part was selling stuff on Craigslist, packing up the stuff to donate, and going through all of the documents.  That took a lot more time than I had planned.  And I probably could have made more money from my possessions if I had started sooner.
So what did I keep?
Clothes and Shoes
Only the really good stuff.  The higher quality basics that would hold up.  Enough of a wardrobe that I would not need to buy anything when I returned.
Jewelry
I've never been big on jewelry, so I didn't have much.  I just kept the nice stuff that I frequently wore.  I sold a lot of gold that I hadn't worn in over 10 years.
Nice kitchen/ dining items
Because I purged so much other stuff and had the space, I decided to keep a box of some of my nicer kitchen and dining items such as serving dishes and wine glasses.
Bike
Note that I also still have some furniture and decorative items because I rented my condo partially furnished.  But if the furniture wasn't wanted, and it didn't fit in the 5×5 storage unit, it would be gone.
What about the sentimental stuff and the keepsakes?
I am sort of anti-keepsakes (more on that in a minute).
Yes, I did keep a few personal things with sentimental value such as some pottery I made and a paper mache ear a friend gave me in high school (the weird things are always the best).
But there are very few physical things that hold sentimental value for me. 
If you gave me something as a gift that is not highly functional, the odds are I don't have it anymore.  Sorry.
Things are just things.  I do not need a decorative candle to remind me that you are someone important in my life.
What's my secret?
I know a lot of people that are perfectly content to keep things in boxes hidden away in an attic or closet.
For me, if I do not remember what is in that box, it must not be important.
If the stuff in that box is worth $1000, and there is a 50% chance I may one day use what's in that box, I'm probably going to sell it and worry about needing something in that box when it actually happens.
Going digital is key.
Obviously, financial documents are very important.  You cannot just throw them away.  I went through the very painful process of reviewing every document, scanning what I needed to have access to, and shredding everything.
Seriously, this is a horribly painful process, especially the shredding part.  I encourage you to start this process now rather than spending 10+ hours doing it all at once.
Going digital also works for photos.
I must have had over 20 photo albums.  I love photos.
Those are my memories.  That is what I get sentimental about.
I used to put all of my photos in albums thinking that if I did that, I would actually look through them periodically.  Sure, I've looked at them before.  And it was nice to show the albums to others.
But I realized that I would rather have those photos accessible via the internet and part with all of those photo albums taking up space.
I used a photo scanning service.  I filled a large shoebox with all of the prints and mailed them to a company in California.  For about $150, they mailed me the box of photos back with CDs containing all of the files.  I shredded the prints.  I uploaded the files to my computer and then synched with my online storage/ backup service.
And then I sold the photo albums on Craigslist.
Did I get rid of too much?
At this point, I do not think so.  When I went to my storage unit to get some clothes and shoes for my visit home, it was such a relief to open the door and see just a few plastic bins and boxes.
I knew what was in every one of those bins and boxes.
I am still living the nomadic life, so maybe I will change my mind when I return to the US and create a home again.  But I have a feeling I will be more than happy to go out and buy a few necessities rather than rent a truck to move a bunch of stuff I didn't use for over a year.
I will be a better minimalist.
Have you had to go through this purging process? How did you decide what to keep?