One of the great things about my visit home is that I get a do-over on packing.  I have obviously learned a lot about what I really need and do not need while traveling in Latin America.
I was gone for 9 months, and I took very little with me. When I go back to Latin America, I will still travel with the same 45L pack and a smaller day pack that I can use for hiking and for transporting my electronics.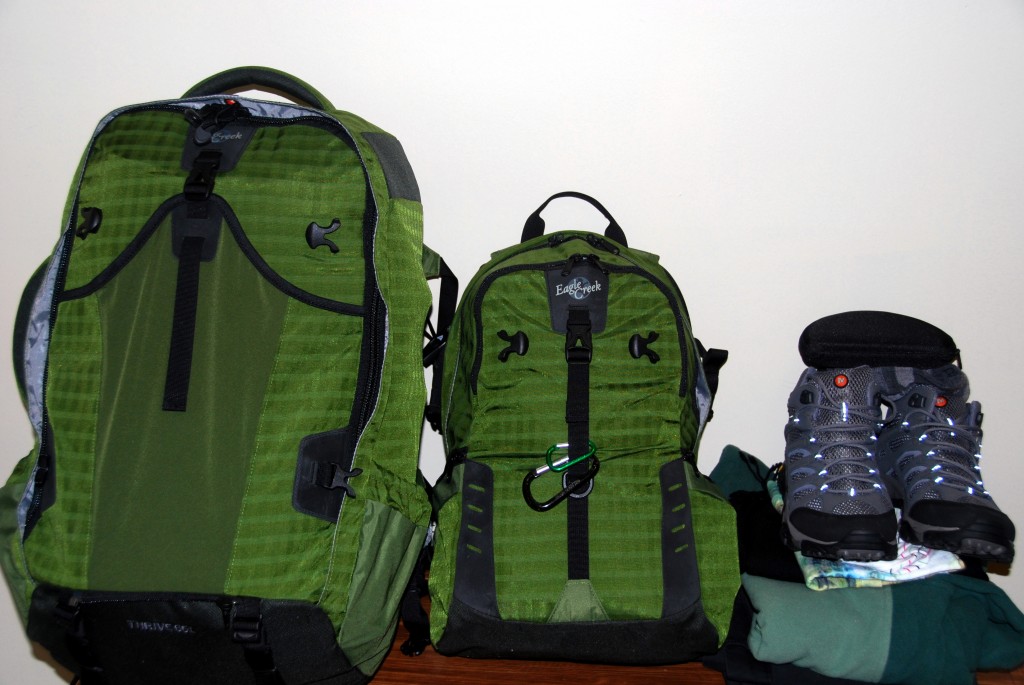 That means I cannot take more.
I can just swap things out and make better decisions this time around.  Check out my original packing list because not much is changing.
Now I'll tell you what I am doing differently.
My Strategy
Because I already know I will stay in Buenos Aires for about 1 month before traveling around Argentina, I can take back a few "extras." My worn-down clothes will come back with me to be used for my time with Andres at the gym. When I move on, I will simply donate or throw away the extras.  When I packed, I made sure everything I plan to travel with long-term will fit into my 45L backpack.  The "extras" are all in another bag.
I am taking a few of my favorite foods that you cannot find in Buenos Aires.  Most of this will be consumed before I start traveling through the rest of Argentina.
I am being nice and bringing back a few things for friends.
Clothes & Shoes
I am not taking any more clothing or pairs of shoes than I brought the first time.  The difference is that I am bringing back new items to replace what is too worn down.  This includes:
T-shirts, tank tops, long-sleeve shirts
Jeans & tights
Tennis shoes
Flip-flops (I've worn through 3 pair while traveling)
Underwear
This time around, I bought some of my replacement clothes so that they would be more multi-purpose.
For example, I am replacing 1 of the 2 pairs of jeans with a pair of black tights.  These can be used as an extra layer when I get to the colder weather in Patagonia.  They can also be the base for a dressier outfit when I am in cities like Buenos Aires.
I also bought a knee-length, flowy dress that will be perfect for hot, summer days and can also be worn with tights when I want to dress up.  I have lived as a scrubby backpacker for months at a time.  I am okay with that, but it sucks when you want to go somewhere nice like a wine tasting or a dinner with a local family you've met and have nothing appropriate.
I LOVE Target.
I was able to replace my clothes with cheaper and better quality stuff than I could get in Argentina.
I bought a new rain jacket (which was on sale) to replace the one that was stolen in Ecuador.
Electronics
Point-and-Shoot Camera
I bought a new point-and-shoot camera to replace my 6+ year-old camera.  This was one of my biggest mistakes the first time packing.  I had my D-SLR and assumed I would be using this all the time.  There are two reasons I need a decent point-and-shoot.
1.  Size
A D-SLR is heavy.  Then when you add in the weight of carrying an extra lens, it makes for a long day.  Sometimes I know I'm going out specifically to work on my photography, and of course, I want the good camera with me.  But other times, I am just out and want to have a camera that is light and small in case I see something interesting.
2.  Safety
I learned the hard way when I arrived in Quito, Ecuador and got robbed my first day that there are going to be some places where it is not advisable to take out my D-SLR, especially when I am alone.
I am also not comfortable taking my D-SLR out at night, especially when going out and having drinks with friends.  I'll be happy to share my opinion of it after I figure out how to use it

I bought the Canon PowerShot SX230 HS with an extra battery.
Portable Music
I bought an iPod Shuffle because my generation 2 Nano is on its last leg and keeps cutting out when I go running.  Some sort of compact MP3 player is also a necessity for long bus rides, and I have many of those ahead of me.
Memory Cards
I did not bring enough memory cards with me the first time.  I brought 3, and 1 stopped working just a couple months into the trip. Now I have a total of 5.  When I go to places like Torres del Paine and Machu Picchu for trekking and hiking, I will need these extra cards to get me through several days without a guaranteed connection for uploading photos to my online storage.
Fitness
Staying fit while traveling is important to me.  Running is usually pretty easy to do, but strength training is more difficult.  So I bought an exercise band that I can use for numerous arm, shoulder, and back exercises.  It takes up so little space and weighs nothing.
And it's multi-use because I can use it to strap things to my backpack if needed.  There are probably several other MacGyver uses of this exercise band that I will figure out as well.  I am open to suggestions.
Cooking
I know this seems a bit ridiculous, but I am bringing a pepper grinder.  I cook most of my own meals.  Nothing beats the flavor of fresh ground pepper.  In Latin America, even if you go out to eat, you will never find pepper on the table… and certainly never fresh ground pepper.
This is worth the small amount of space it will take up in my backpack.
A Month of Consumables
Here are the special items I am bringing back for the month I'm staying in Buenos Aires.
Dove Dark Chocolates
Granola Bars
Extra Gum
Peanut butter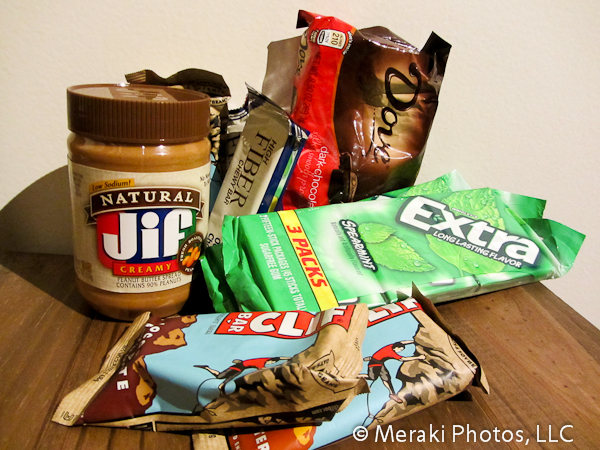 After my ode to peanut butter post, I am sure most of you assumed this would be on the list.
I hope I didn't forget anything!  If I did, I can probably live without it.