Did I jet off to Buenos Aires to escape the winter in Ohio?
Sadly no.
I have just been thinking a lot about Buenos Aires lately …
because…
My Buenos Aires City Guide is being published this month!
I put so much into researching and writing the book, and I am really proud of the end product.
I will write more about the book soon.  If you are planning a trip or know someone planning a trip, you can purchase the Buenos Aires City Guide now at a large pre-sale discount.
In celebration of the book launch, which I consider my biggest accomplishment of 2012, I am sharing previously unpublished stories and photography from Buenos Aires this month.
I hope you enjoy them as much as I enjoyed remembering all the great times I experienced in Buenos Aires.
I finally went to a futbol game in Argentina
After living in Buenos Aires for several months, I learned a little about futbol (soccer for you gringos).
What I learned was mostly about the politics and shadiness of the Argentine Futbol League, the insanity that sometimes takes over the fans (I even wrote about why I will not go to a football game in Argentina, which has gotten 57 comments), and how to make it look like a defender nearly chopped off your leg when in fact he never touched you.
Futbol is everything to Argentines.
And if I was going to write a city guide for Buenos Aires, I had to open my mind a try to understand the good side of this sport and why it means so much to people.
I had to go to a game.
Football De Tours
During my research time in Buenos Aires last year, I contacted the guys that run Football De Tours. Note that if you are a huge fan of Argentine Futbol, you will probably want to follow their website Argentine Football World and their podcast (the only one in English) Hand of Pod.
Why did I choose Football De Tours?
#1 – I had no desire to go to a Boca Juniors game (the most popular and well-known club) after I learned that you might get a bag of urine thrown on you if you sit in the wrong section.
#2 – I did not want to go with a huge tour group and stick out like a sore thumb.
#3 – wanted to go see a club that is not frequented by tourists but is well-known and respected among Argentines.
#4 – I wanted to LEARN about Argentine futbol, specifically why people are so passionate about it, and to find something good in the sport.
As an independent traveler, I appreciate a good tour guide but still seek out a local experience with personalized attention.
I think Football De Tours has found the perfect mix.
The company is run by native English-speakers Sam and Dan who are experts on Argentine futbol.  These guys know their stuff, so you can learn who are the players to watch and how the season has been going and critical matches coming up.
They do not charter buses but instead pick a central meeting point and accompany you to the game via public transportation. This helps keep their prices reasonable.  Plus, you get a more "local experience" on the Subte or bus.
The Match
I went to see an Argentinos Juniors match.
I don't follow the sport, so I didn't really know much about either team.
Sam gave me some basic knowledge of the league standings, the importance of the match, and the key players to watch.  For the other hardcore futbol fans in our group, there was a lot more to discuss.
And the fans actually seemed quite civilized.
I could see the section of hinchas, but I didn't have to sit with them.
The Museum
My favorite part of the evening was going to the museum.
As I have said before, I'm not a huge fan of futbol.
But learning more about this club's rich history and seeing the care that they take in honoring and sharing it made me respect it.
Argentinos Juniors is one of  only three Buenos Aires clubs with a museum at their stadium.
One of the staff members very proudly explaining the memorabilia and photographs, and Sam was there to translate the parts I didn't catch.
This club has produced some of the best players in Argentine history, including Maradona.
BONUS:  Locker room!
The players were gone when we went in after the game, but it was still cool to see the locker room.

The players had this indoor grass area to warm up.
Yes, I had to take a picture of that.
And just to make you jealous….
We got to go out onto the field too!
Check out a match!
It is best to contact Football De Tours as far in advance as possible with your travel dates, and they can work with you to determine a match to attend.  Full details are listed on the web page, as well as contact information.
Have you experienced futbol in Argentina?
Planning a trip and want to know more about Buenos Aires?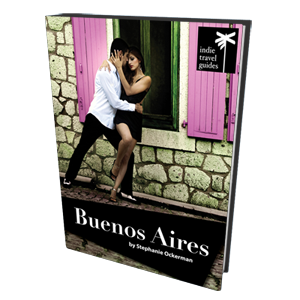 This month I am highlighting Buenos Aires in celebration of the release of my Buenos Aires City Guide published by Indie Travel Media. I put a lot into this project, and I am proud of the end product. I love this city, and I want anyone who visits to use this guide to create a unique experience and enjoy the best of Buenos Aires.