When I first arrived, I immediately noticed the love for books in Buenos Aires.
On public transportation,most people have a book to keep them occupied.  When walking by parks, I always saw people sitting on a bench or relaxing on a blanket reading a book.
I get it.  They love books.
I like this part of their culture, and it has inspired me to read more.
I kept hearing about the famous bookstore called Librería El Ateneo Grand Splendid.  It is always on lists of the most beautiful bookstores in the world, it often comes up in searches of things to see in Buenos Aires.
I figured I should check it out but did not have very high expectations.
I mean, how cool can a bookstore be?
So… um, yeah.  Pretty cool.
The building was originally built as a theater in 1919 with a capacity of 1,050.  Now you can be one of the one million people to pass through its doors annually.
There is a café in the back where the stage used to be.  Although the prices are high, it is a pleasant place to enjoy a coffee and take in the surroundings.

Librería El Ateneo Grand Splendid is located at 1860 Avenida Santa Fe in Barrio Norte. When I was there, they had a great international photography exhibit on the upper level.
Have you visited any other cool spaces in converted theaters?
Plan a trip and learn more about Buenos Aires!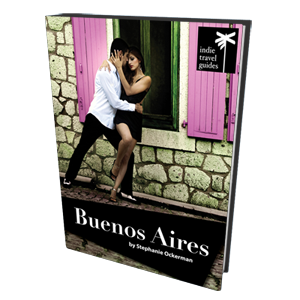 This month I am highlighting Buenos Aires in celebration of the release of my Buenos Aires City Guide published by Indie Travel Media.  I put a lot into this project, and I am proud of the end product.  I love this city, and I want anyone who visits to use this guide to create a unique experience and enjoy the best of Buenos Aires.