I have lived in Buenos Aires for four months.
I have met many expats who have come here for a long-term visit to "try out" the city…
And they never leave. 
After living here for four months, I totally get it.
Buenos Aires sucks you in.
You always feel as if there is so much more to see and so much more to do.  The people are so diverse, both the Porteños and the expats, in their cultural backgrounds, personal styles, and interests.  It is easy to make friends and find others that relate to you.
It is impossible to be bored in this city.
There are thousands of galleries, museums, cultural centers, and theaters.  It is impossible to walk a block without seeing flyers advertising classes in anything ranging from stand-up comedy to playing the ukulele.  There are different neighborhoods to explore.  There are beautiful buildings to see.
Any night of the week, your options are endless.
Should I go to a wine tasting?  Should I see a ballet?  Should I go to a gallery opening?  Should I go out dancing?
But it is not just the diversity of the people and having lots of nightlife options.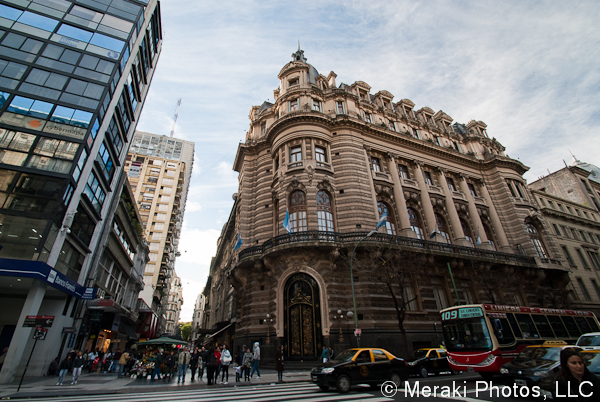 There is something special about this city.
If you chat up a local, you will quickly hear from him or her, "Buenos Aires is the best city in the world."
I just realized that I have never asked the question of why.
When I first arrived here, I shared 5 things I love about Buenos Aires.  Those were my first impressions as a tourist.  Over time, I have shared even more of what I love about this city from the plethora of cultural activities, many free or very affordable, to the beautiful tree-lined streets and European-style architecture.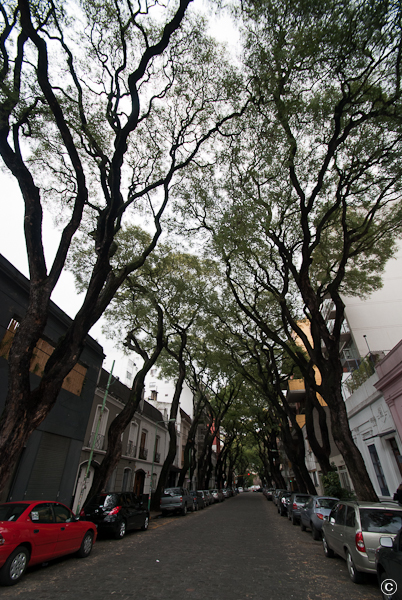 The Truth About Buenos Aires
The nice thing about living in one place for a while is that you learn more.  You start to understand the environment in which people are living and how it impacts them.
When a local claims that Buenos Aires is the best city in the world, I have to wonder how they overlook the not-so-glamorous aspects of the city.  So here is the truth about Buenos Aires.
The economy of Argentina is doing poorly.
The government is lying about inflation (about 30% last year).  There seems to be a lot of corruption within the government, which ultimately affects the economy.
Almost everything is expensive.
Apartments.  Restaurants.  Groceries.  Clothing.  Thankfully, the amount of free and low-cost entertainment is abundant, and public transportation is cheap.  Otherwise, I could not afford to stay in this city for so long.
Electronics are very expensive. The government taxes imports at a ridiculous rate (around 50% I think), so it is difficult for locals to afford things like computers.  I assume this is because they want people to "buy local," but Argentina doesn't produce certain things.  I am guessing it is not exactly cheap for an international company to just set up a factory in Argentina either.  In my opinion, you put your own people at a disadvantage when they cannot buy the tools they need to be competitive with the rest of the world.
The poverty is palpable.
Even in the nicest neighborhoods, you see homeless people sleeping on the streets in the middle of the day.  They are filthy, and their clothes are barely stitched together.  I wonder if there is anywhere they can go for a shower or a meal.
Small children spend their days begging for change in the subway, on the streets, and even in some restaurants.
I once saw a woman trying to sell some cheap product on the subway train with her newborn baby in tow.
Crime has increased.
I was warned when I got here that Buenos Aires is not as safe as it seems.  The architecture makes it seem like such a grand city.  People dress fashionably.  There are lots of trendy bars and restaurants.  People spend their afternoons enjoying coffee and medialunas with friends at a café.
But because of the poverty, economic instability, and political issues, Buenos Aires has a lot of crime. I certainly am not an expert and do not know the statistics on this, but it seems that the majority of crime is more about theft and not particularly violent.  So that's a plus I guess.
If you have nice things, you take care not to make it obvious.  A friend I met was visiting Buenos Aires for a wedding, and a thief took her iPhone right out of her hand while she was sitting in a taxi at a stoplight.  I have met travelers who have been pick pocketed on the subway.  I have met locals who have been robbed on the street.
Workers are on strike every day.
I am certainly not one to judge whether an organization should be on strike or not.  All I know is that there seem to be a lot of strikes.
The city is dirty.
And I am not just talking about dog poo on the sidewalks.  It is not so bad in the nicer neighborhoods like Palermo and Recoleta, but there is a lot of trash in Buenos Aires.  It seems to be perfectly acceptable to throw your trash on the street rather than use a trash bin.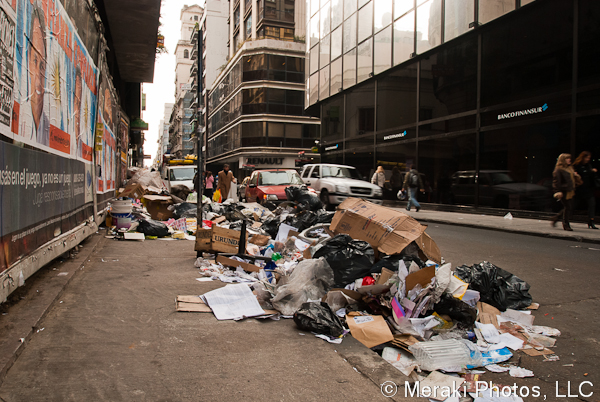 So why is Buenos Aires so great?
The same Porteños who tell you that Buenos Aires is the greatest city in the world will also tell you all of the problems.  Same with the expats who choose to make their lives here.  They are not in denial.
How do they look beyond these problems and still think so highly of their city?
They believe that Buenos Aires has the potential to overcome the problems.
This is a city full of people that WANT Buenos Aires to be the greatest city in the world.
And while the city and the country work on their problems (slowly), the people enjoy the best parts of Buenos Aires.
There is something exciting about the challenges of living in this city.
For me, Buenos Aires is just modern enough yet still has the typical Latin American big city challenges.
Figuring out how to take public transportation to a new place is always a fun challenge. I love the bus.  I have mastered a few routes now, but I am also not afraid to take a new one.
Getting through a government process is worthy of a medal. I was proud that I figured out how to navigate AFIP to file complaints against my evil landlord.
Knowing where to find the best deals makes you feel like a local. I know where to buy the best and cheapest baguettes.  I know which vegetable and fruit stand always gives me the best prices.  I know what part of town has the cheapest clothing.  I know where to find the cheapest cup of good coffee.   If I cannot find something, I know who to ask.
Not getting ripped off by taxi drivers is a personal goal. When I catch my taxi driver trying to drive me the long way, and I can call him out on it in Spanish, I feel pretty damn good about myself.
Buenos Aires, you are exciting, inspirational, and at times frustrating.  And I accept your flaws because of everything else you have to offer.