One of the things I love about Latin America in how colorful the streets are, and Buenos Aires is no exception.
The city is very different from most of what I experienced traveling through Central and South America, both the culture and the look of the city.
Much of Buenos Aires still has European architecture, especially in the central barrios, even if it is sometimes faded and crumbling.  There are parts of Buenos Aires that are newer and have a modern look like Puerto Madero.
Yet most of the city still has the vibrant, colorful streets typical in Latin America.
These are the streets I love to wander.
Colorful Buenos Aires
 Peeling paint adds character.
Sometimes nature adds color even in an urban setting.
 Art in Parque Lezama
So San Telmo
Graffiti art beyond walls

My favorite street corner in Palermo Soho.
I love the contrast of graffiti art next to a building with an historical facade.
How cute is this?

If you've read my earlier posts, you know that I"m a huge fan of graffiti art in BA.
If you want to see more and learn more about graffiti art in Buenos Aires, check out these posts:
Plan a trip and learn more about Buenos Aires!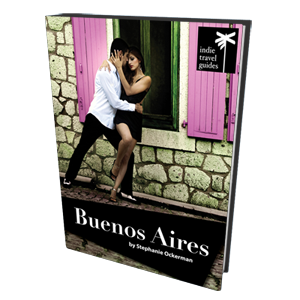 This month I am highlighting Buenos Aires in celebration of the release of my Buenos Aires City Guide published by Indie Travel Media.  I put a lot into this project, and I am proud of the end product.  I love this city, and I want anyone who visits to use this guide to create a unique experience and enjoy the best of Buenos Aires.